It's that time again, ULTRA Music Festival is here again bringing in the best DJ's to the party central of America; Miami, Florida.
The biggest question, aside from which event to attend is What To Wear to ULTRA Music Festival?
Fashion for music festivals is a tricky, as you never know what the weather will be like. Hence the reason to always come prepared. Posts will include unique looks that will surely make you stand out among the massive crowds at ULTRA Music Festival.
What to wear to ULTRA MUSIC FESTIVAL: These are not complete outfits, but OPTIONS to create a complete outfit. Pretty much, pick and choose from a variety that all fit the unique style for the specified trend.
Look 1: The Bohemian Rocker Babe: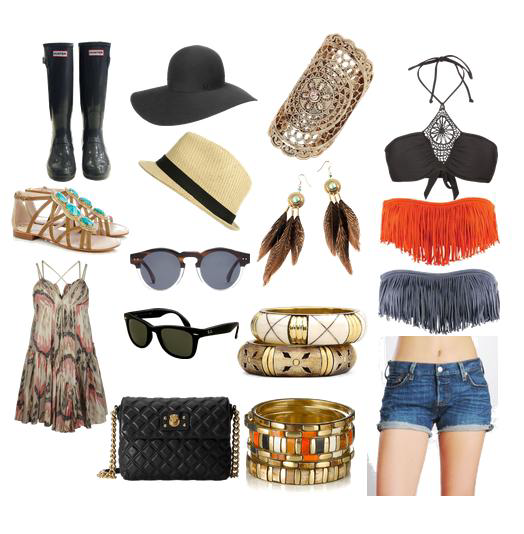 Shorts: Levis 501 Worn In Shorts $50
Black & Orange Fringe Bikini Top: L*space Dolly $76
Crochet Halter Bikini Top: RIP CURL $46
Gold Stackable Bangles (Orange & Gold): Monsoon $28
2 Ivory & Gold Bangles: MNG by Mango $40
Brown Feather Earrings: H&M $49
Gold Ring: Filigree Flower Ring $20
Floppy Hat: Maison Michel Hat $495
Basic Straw Fedora: Straw Fedora $9.95
Tortoise Sunglasses: Illesteva/Saloniki Sunglasses $207
Wayfarers: Ray-Ban $140
Rainboots: HUNTER $125
Jeweled Sandal: House of Harlow 1960 $371
Flowy Pattern Dress: Ikat Dress by All Saints $165
One Shoulder Bag: Marc Jacobs $635
The inspiration for these choices come from some of my favorite music festival fashion icons, such as Kate Moss and Sienna Miller. Items shown are more "in the style of" and more affordable versions of all items listen can be found.
The rest of the series will include:
The Socialite
The Flower Bomb
The Casualite