*Two Point Oh! LA, the Los Angeles Union for Fashion, Style & Beauty Bloggers, Hosts Winter Ball, Raising Money for the Downtown Women's Center*
On December 11th Two Point Oh! LA bloggers, LA fashion insiders and for the first time ever, the general public, will be gathering at the Pacific Electric Lofts Penthouse Ballroom to celebrate the Holiday season in style whilst raising money for the Downtown Women's Center, right here in Los Angeles.
This formal winter ball is proving to be the event of the season, and as Two Point Oh! LA has proven, time and time again – they know how to throw a party.
The event will feature:
An open bar featuring drinks from our sponsors: Barefoot Wine and Bubbly, Chambord and Chambord Vodka, DRY Soda and Hansens Soda.
Each guest will receive an original and limited edition bag from either Seam Ripperor TMinx filled to the brim with goodies from XCVI, Tara Stiles Yoga, OPI, Jane Cosmetics, Modcloth, Carolina Pad, Crossroads Trading and much much more,valued at over $300.
So Much Pretty's Beauty Lounge: With complimentary hair and make-up touch up's and add on's (such as extensions and hair bling) from stylist Vanessa Ortega and gift bags for a limited amount of guests featuring VANS Girls, Sultra Flat Irons, Redken, Jan Marini, Visine, JANE Cosmetics, the Fizzy Baker by Smith & Vandiver, AvoJuice by OPI, Foot Petals, China Glaze, and more!
DIY lounge from Be Vainglorious or DIY Trying sponsored by Forever 21 and International Silks and Woolens – under Kristen Turner's guidance, each guest can make their own original headwear!
Setting the scene and the sound for the night is the illustrious HM Sound System.
Complimentary hor d'oeuvres as well as amazing cupcakes from the award winning My Delight Cupcakery will be available to be devoured!
The Winter Wonderland Photobooth will be in action all night long, manned by photographer Michael Yates and providing unlimited digital pics of the magic moments throughout the night.
Tickets are available here (http://snowball10.eventbrite.com) at $20 for Two Point Oh! LA members and $30 for non-members – with all profits going to the Downtown Women's Center.
For general inquiries please contact: TwoPointOhLA@gmail.com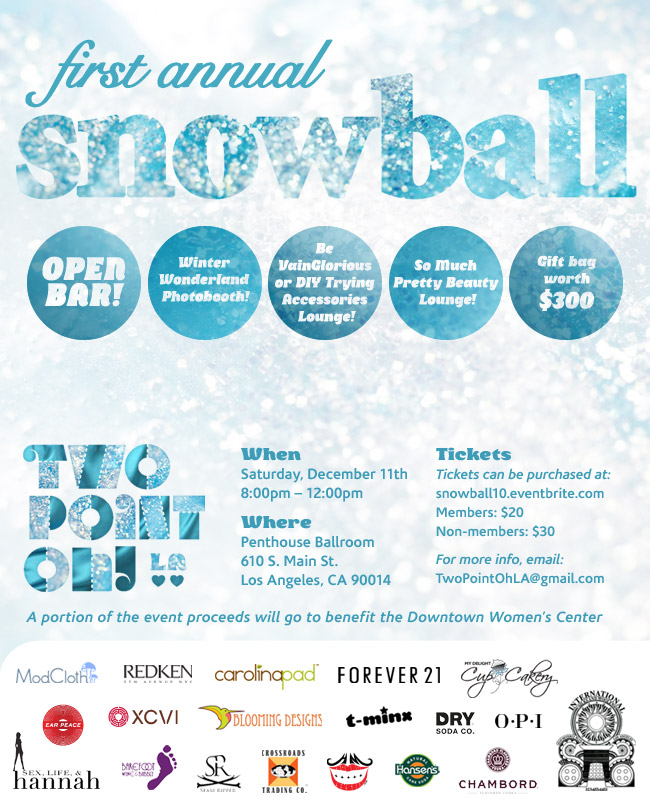 All info via TwoPointOhLA