I'm not going to lie, I am slightly shocked. As much as I don't care for Paris Hilton, she looks pretty awesome on the February 2011 cover of VOGUE Turkey. The cover, shot by famed photographer Terry Richardson, gives Paris a fun edgy look as she sees the world through according to Terry Richardson, and not…well, Paris.
Being Turkish, I always look forward to seeing the covers that come popping up, and I was definitely pleasantly surprised with this particular one. Paris definitely is known for her love of fashion, as well as being one of the most famous women in Hollywood, so I am definitely not surprised that her brand has branched out to many countries, especially one like Turkey.
VOGUE Turkey is fairly new and hasn't been established too long, and with the covers they have had so, it seems like the expansion of this version of the "Bible" of fashion, isn't going to slow down.
Paris rocks this February 2011 VOGUE Turkiye (Turkey) cover in geeky yet chic black rimmed over-sized hipster inspired glasses. These glasses are such a perfect accent to her golden ponytail, bold red turtleneck and rockin' leather Balmain jacket. Those ruby-red lips are definitely fierce and cover worthy!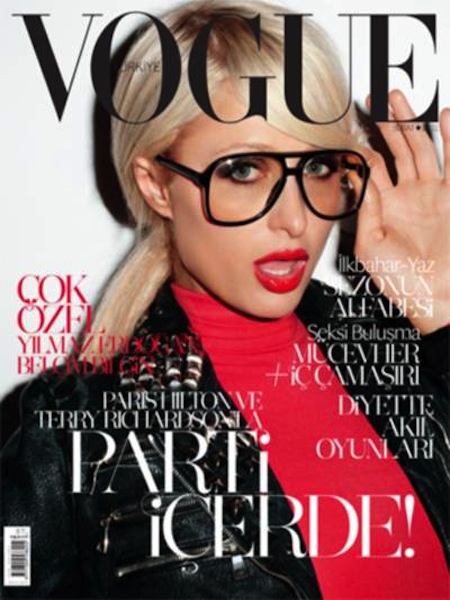 The last time Paris Hilton was on the cover of VOGUE was in 2008…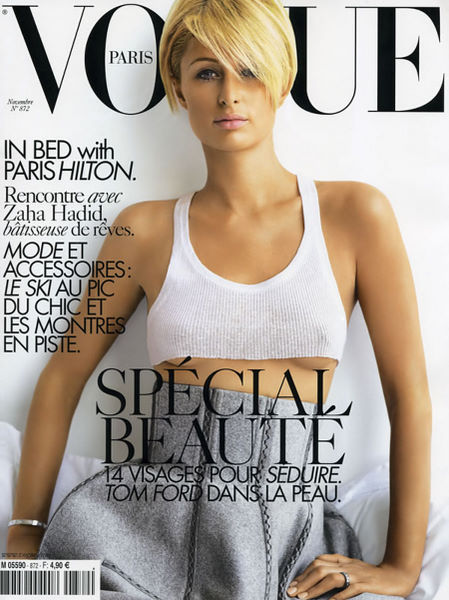 All images via ParisHilton.com
What a difference three years makes…from trashy (sorry, "the wife beater" is never chic) to fabulous.
Which cover of Paris' do you like better?