It's been a whirlwind of a week, so many meetings, so many projects, and it seems like there is not enough time in the day to do it all. Today was absolutely chaotic but one of the highlights was heading over the Ritz-Carlton Marina del Rey for a fun even with Juice Beauty, The Crown Collective and our amazing host, Gwyneth Paltrow. I never in a million years thought I'd be able to sit across from one of my favorite actresses of all time (I grew up with Gwyneth being the lead in practically every movie!) and talk about ANYTHING! But September 7th 2016, there I am, listening to her speak about the importance of using organic products and how skincare is essential to our lives.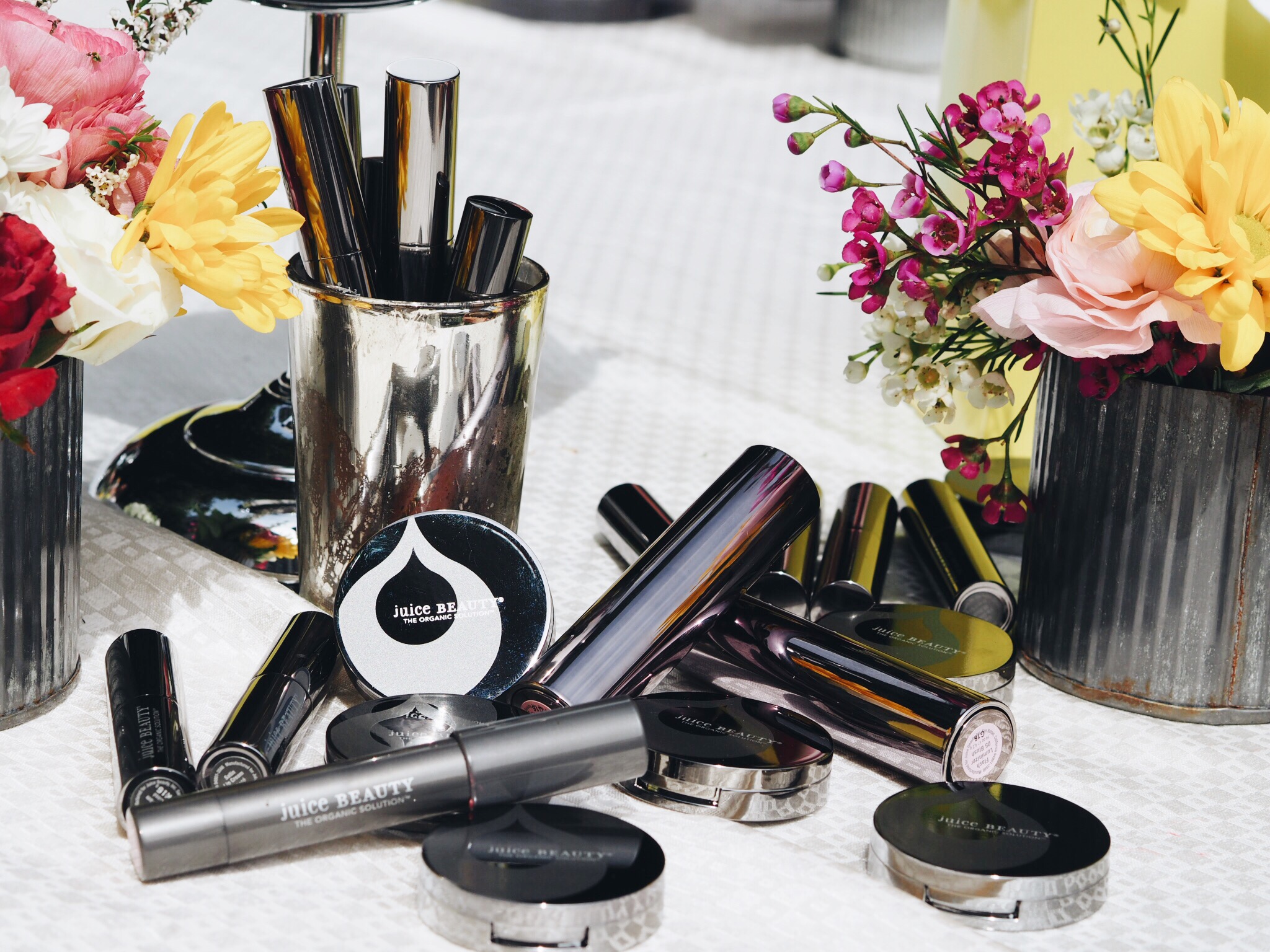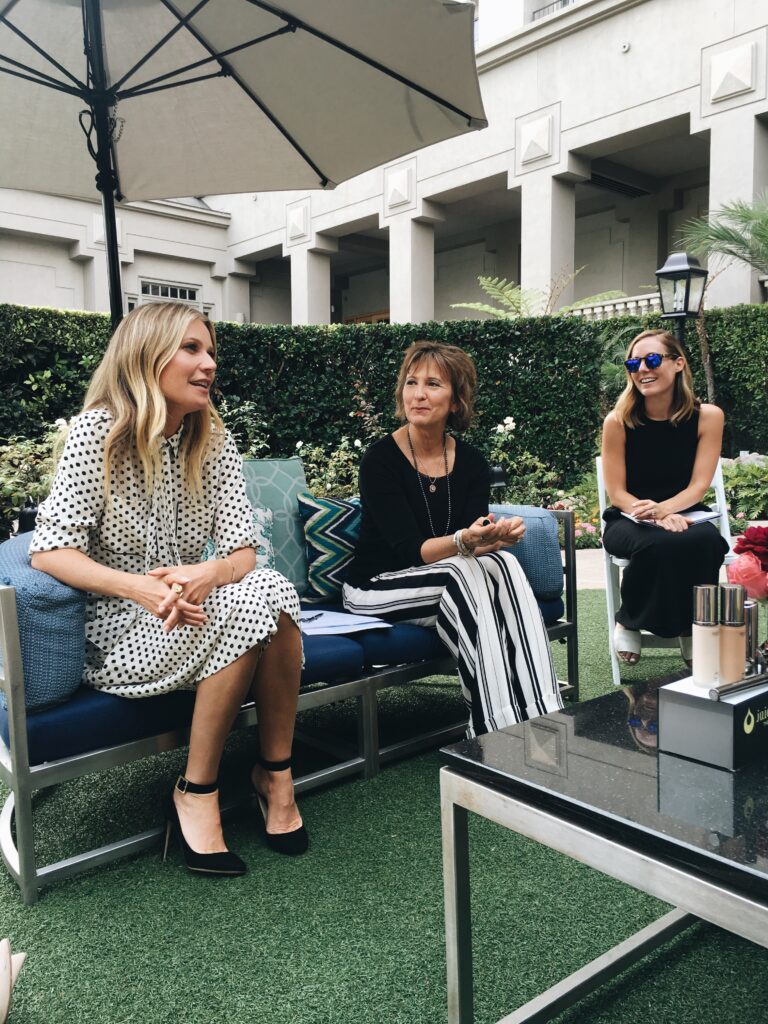 She discussed the difference between "Natural" and "Organic". To be honest, I thought they essentially meant the same thing. Natural is a "loosely" used term to describe that more or less, but not really (confusing, right?) it's natural. It's like drinking Naked brand juices that say "natural" but it's mainly sugar and a bunch of other things we don't need to put into our bodies. Organic has to exceed 70% to meet FDA guidelines. All of Juice Beauty is ORGANIC so you know exactly what you're putting onto your face.
For me this was interesting because I realized a lot of common brand products I use actually slightly irritate my skin, but not enough to make me feel weird about it. Think about it. Some products leave us a little dry, oily, patchy, sometimes red. We don't realize what we are putting into our skin. I'm always looking around to find new products the work best for me, and I feel like as I keep getting choosier and choosier I'm getting closer.
I have still yet to try the Juice Beauty products so I can't wait to see how it works on my skin. So stay tuned for that! Gwyneth also shared some tips for better skin.
Know what's going into your skin.
Sweat everyday.
Sleep.
Hydrate from within (water).
Exfoliate.
Moisturize.
Aside from being able to play with some of the makeup we made some fun flower crowns (it's definitely not my strongest talent) and ate some small bites thanks to the The Ritz Carlton in Marina del Rey. It was such a fun and informative event for me. Turning 30 I've been trying to educate myself on having a healthier lifestyle and taking better care of my skin. I'd rather start now than wait until it's too late.
What are some of your skincare tips you swear by?
Now onto what I wore. For this even I kept it relatively simple, yet chic. I took a pair of distressed denim and this deep tie-front blazer I am obsessed with. I got this tie-front blazer two years ago from H&M and it's probably my favorite fast-fashion piece to date. It's sexy, sleek, and chic. It can be worn during the day with jeans (a la today's look) or dressed up with black skinnies or matching slacks. I love the versatility of this piece.
Oh, and if you just go through your room and start digging up your old clothes, I swear you'll find some hidden gems. I sure did! It's like finding $20 in your pocket.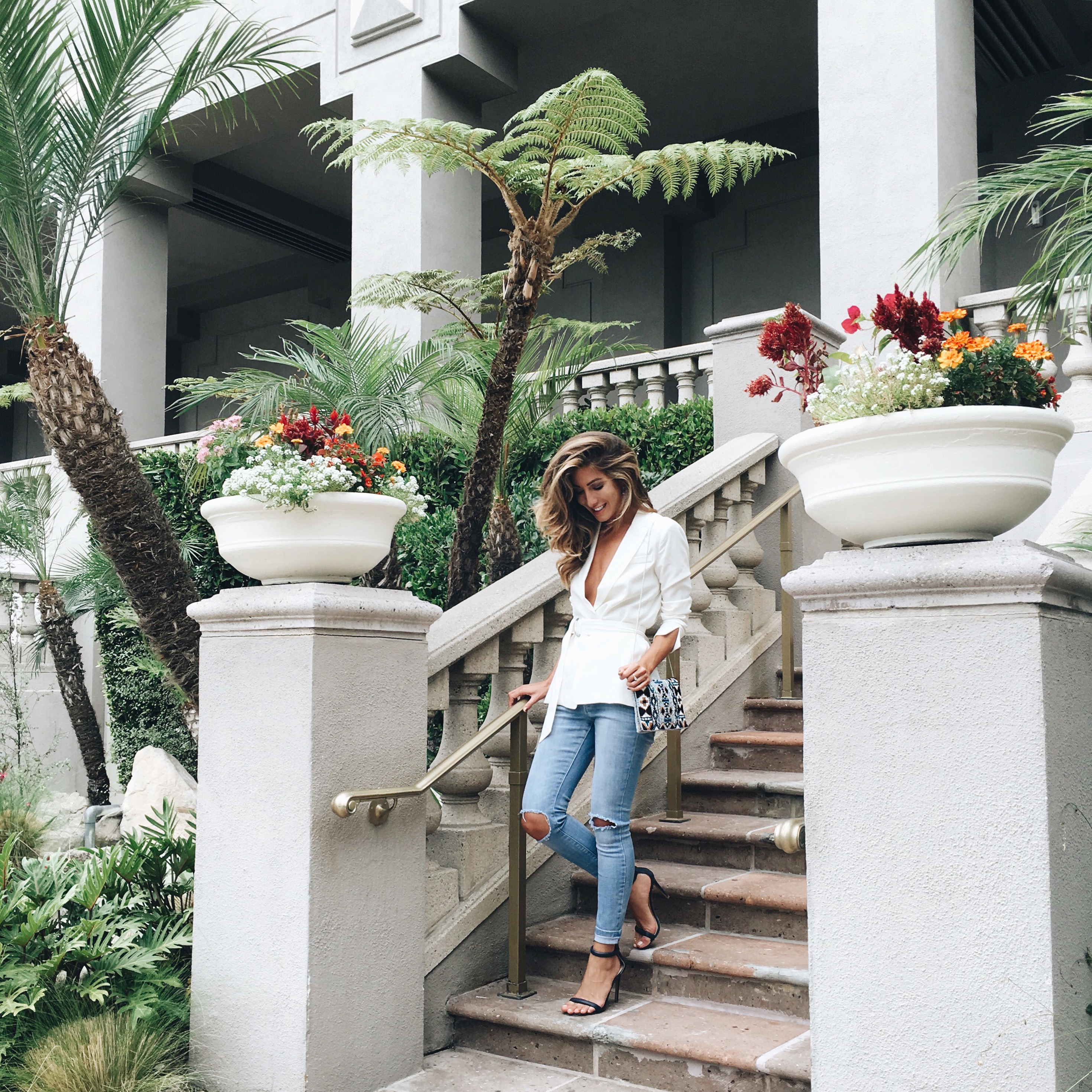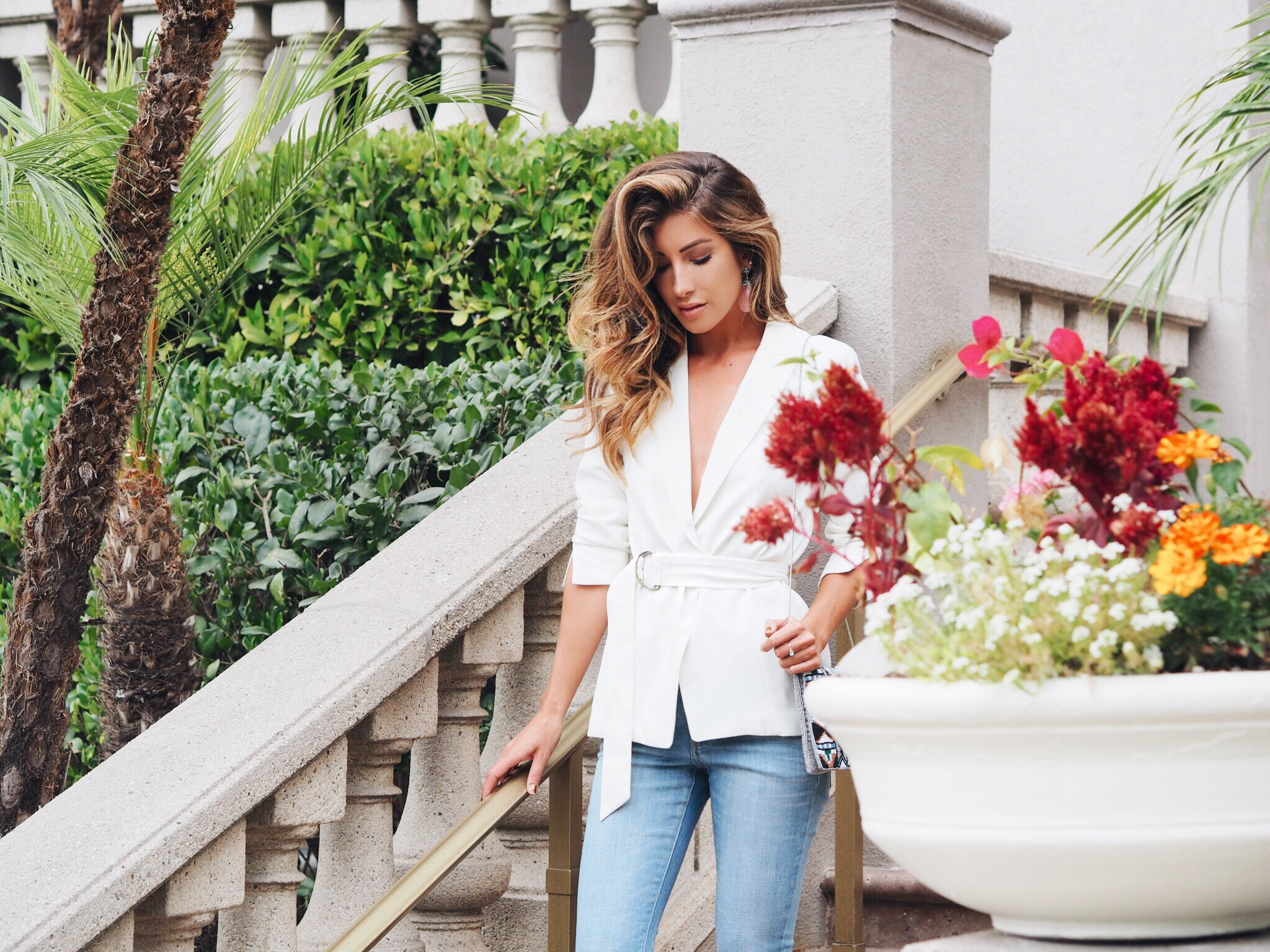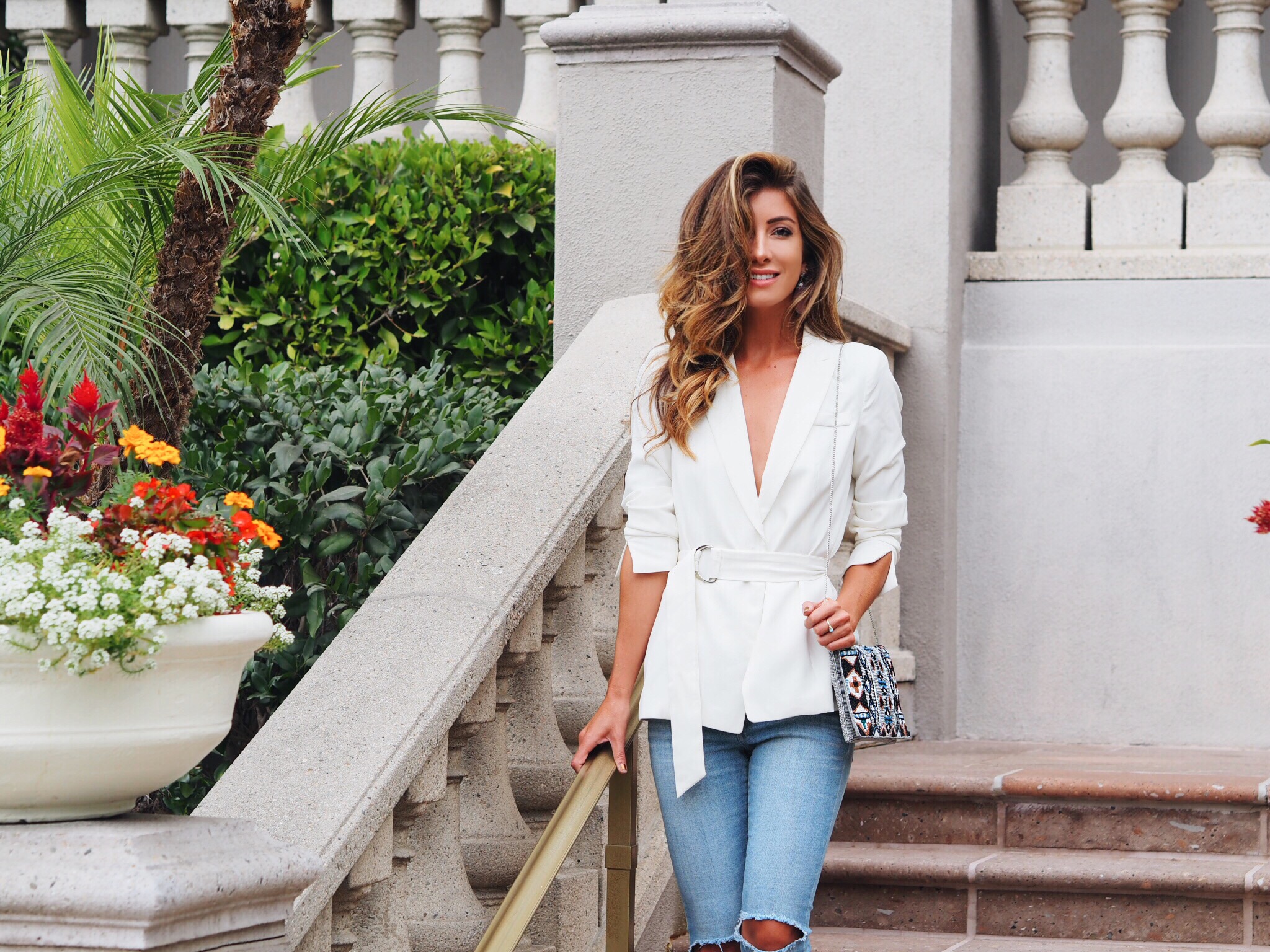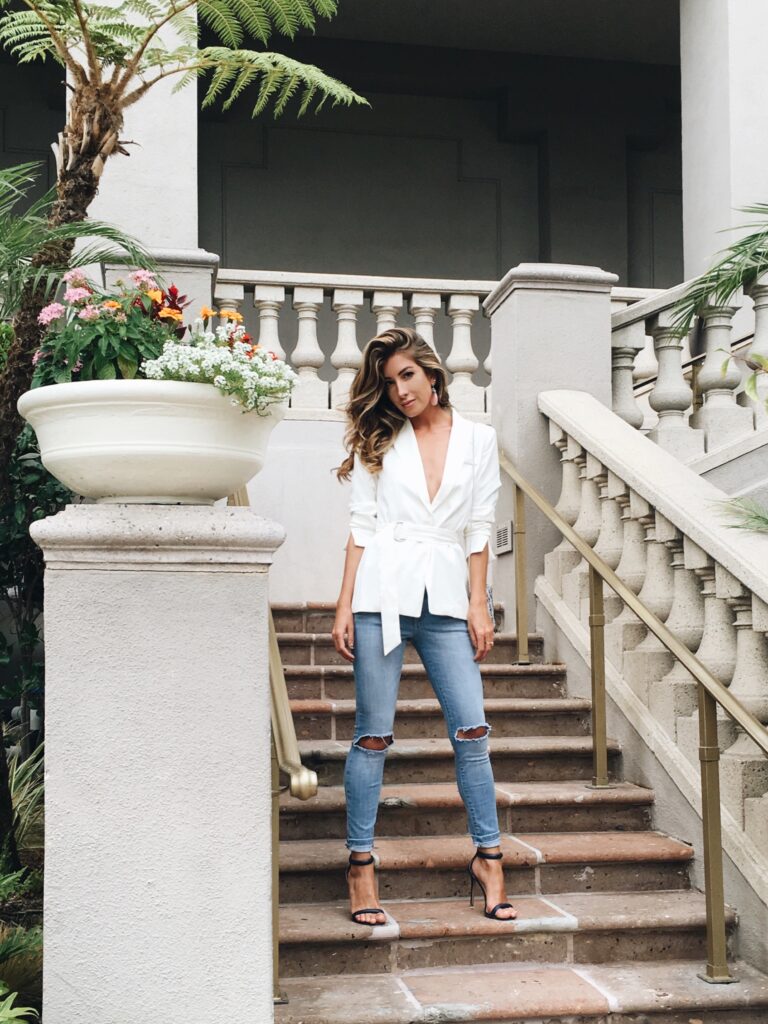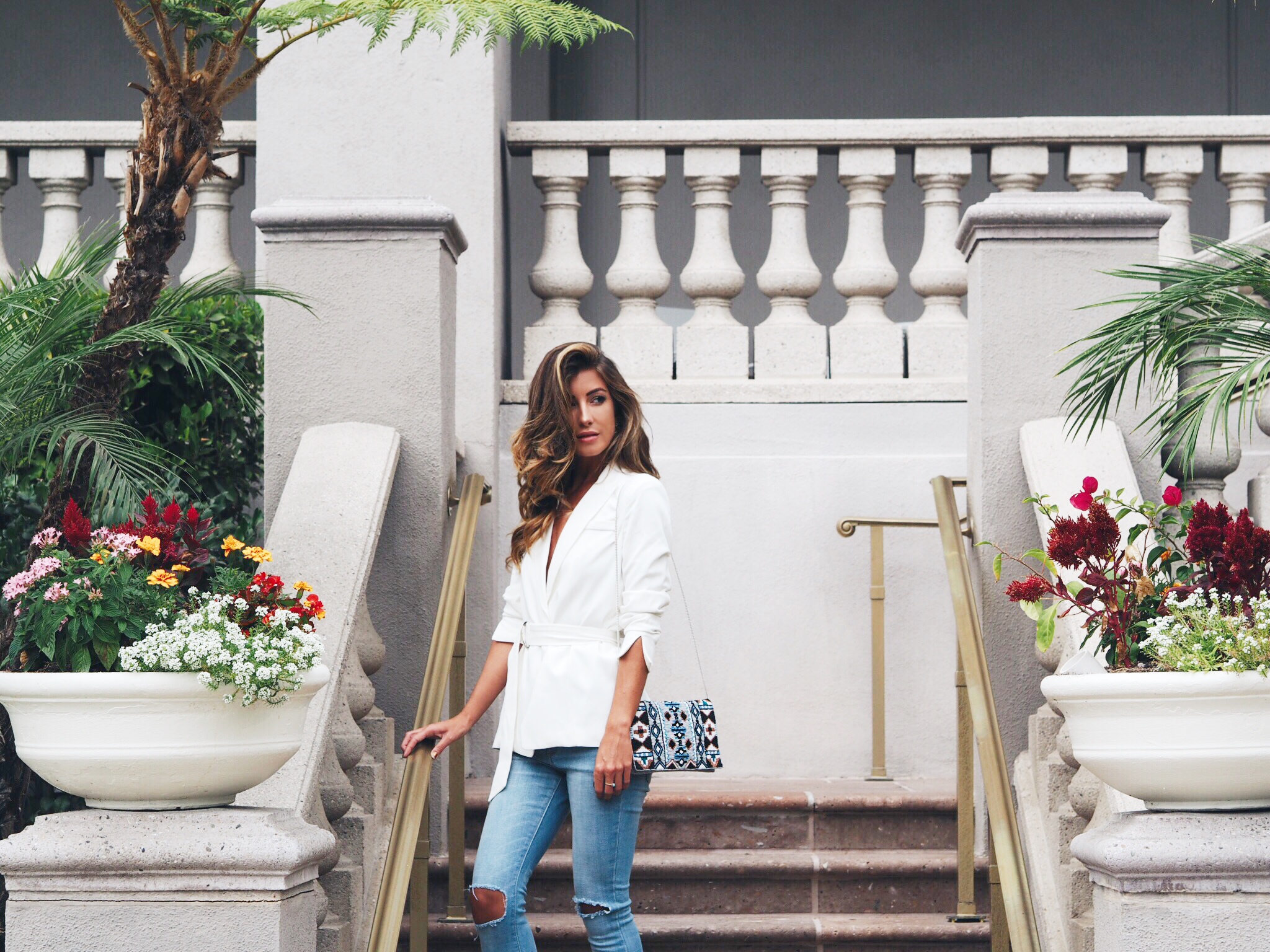 White Tie-Front Blazer: H&M, Distressed jeans: c/o 2020 ave, Beaded Clutch: c/o From St. Xavier, "Fancier" sandal: Steve Madden (get the on sale in every color here).