Last week, I asked on my IG stories if you guys have tried zucchini flowers before. Most of you have, which was fifty-eight percent of you, so that was exciting to learn. For the other forty-two percent of you that have not tried zucchini flowers, this recipe is a great introduction to this delicious Italian speciality.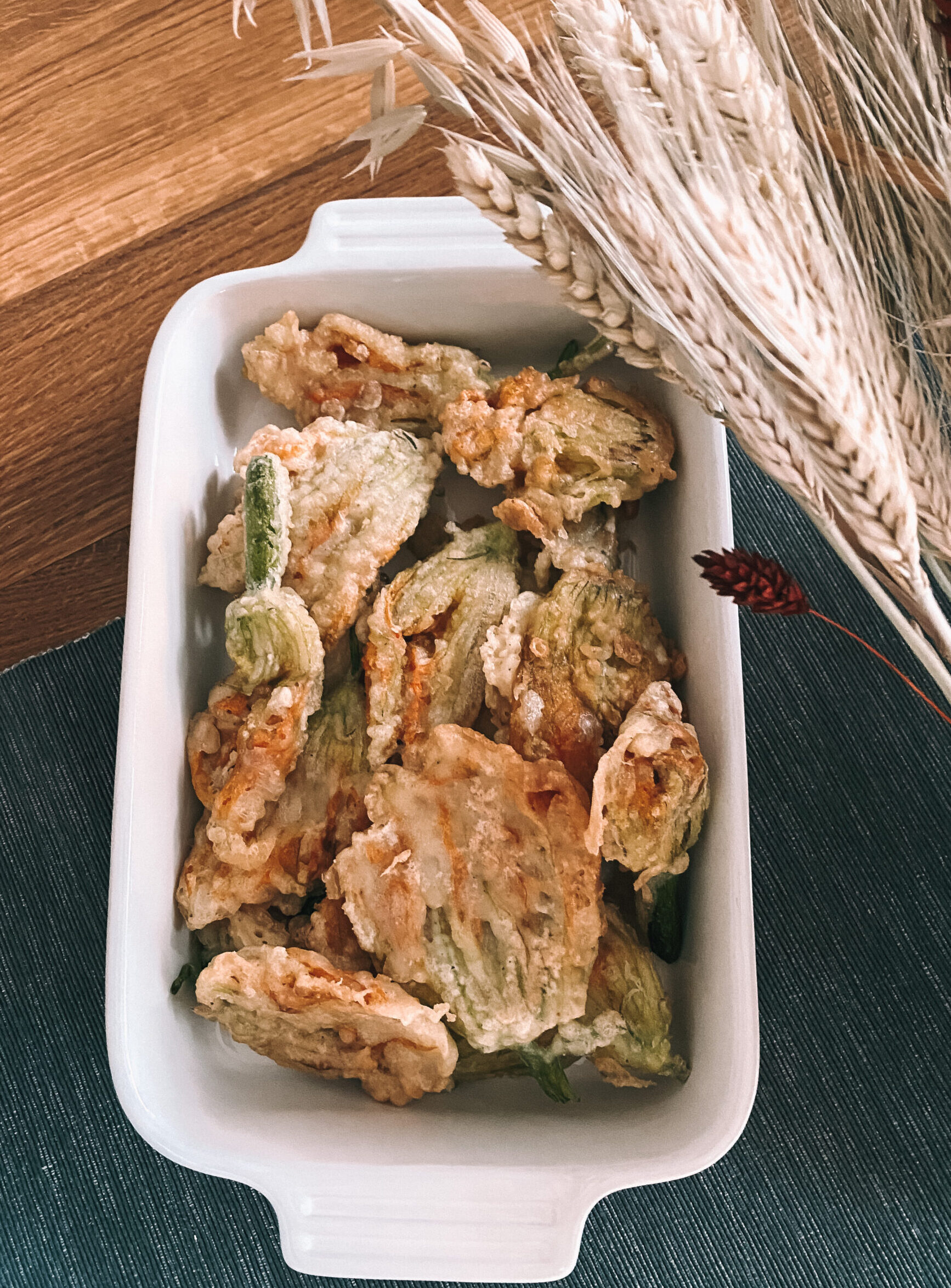 I'm so excited to be sharing recipes now on the blog with you guys, it's such a joy. If you haven't seen my last cooking post, check it out here (it's Seasonal Vegetable Yellow Curry)
This dish is great as an appetizer or even a snack the neck day. I discovered these being married to an Italian, but learned to incorporate them into my normal cooking routine. I have to say, they are the best both before dinner or as a snack. Next time I will practice making these stuffed!
Oh, I am already drooling…
I like to make zucchini flowers with both fish and meat/chicken. They are very versatile and can pair with almost any meal. They are a fun way to add a little elegance to your next meal. Trying something new is always a good idea, especially when it's in the kitchen and end's up fabulous!
Each region in Italy has their own unique way to cook up zucchini flowers. For this recipe, we are going to lightly fry them in a seasoned beer-batter which really brings out some of the special flavors of zucchini blossoms.
Ingredients
12 to 16 Fresh Picked Zucchini Flowers
One Bottle of White Beer
One Egg
1 1/2 cups All-purpose Flour
Sea Salt
Oil For Frying
INSTRUCTIONS
Gently clean the zucchini flowers and carefully remove the stamen (inside- see photo in gallery)
Leave 2 inches (minimum) of stem intact (for dipping & frying)
In a small bowl, add flour and a pinch of sea salt.
Add enough beer to the flour slowly, whisking until smooth. Batter should be the consistency of cream.
Wait 10 minutes.
Add the egg and whisk until blended smooth.
Add enough oil to a deep saucepan and heat.
Gently dip the zucchini flowers into the batter them until lightly coated. Hold the flower over the bowl for a few seconds to allow excess batter to run off.
Carefully place zucchini flowers into the hot oil in batches. Fry until crisp and golden brown (about 3-4 minutes)
. Remove from oil and place onto plate with kitchen towels.
Repeat for remaining flowers.
Top with a pinch of sea salt
Serve immediately.
Please let me know in comments below your thoughts on this recipe & what you'd like to see more of!