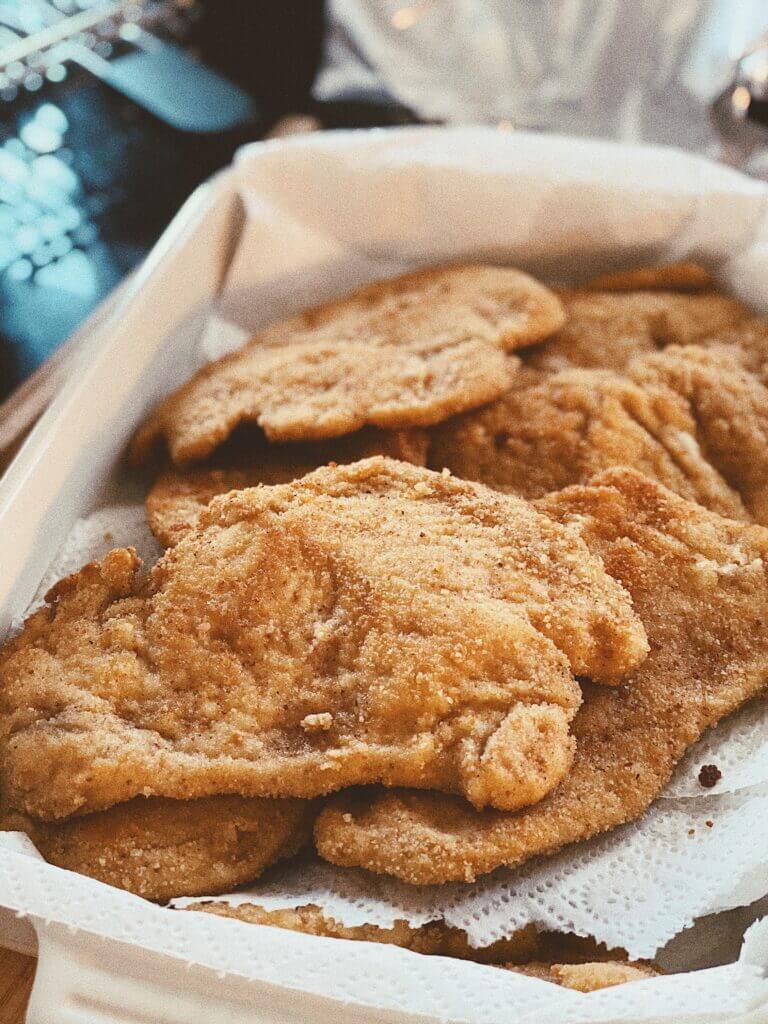 Being married to an Italian, every Sunday is Chicken Milanese night. It is one of my favorite dishes as it always hits the hunger pangs right ? This chicken mines recipe I learned from my husband Mario's father, Carlo.
Carlo had a very successful career as a chef in his own Italian restaurant in Frankfurt, Germany. He still puts those cooking skills to use as every time we visit Frankfurt, he has cooked for the entire neighborhood!
Everything he cooks is with love, and I am the same way when I cook. Back when I was living in Los Angeles, I had hosted dinner parties for 10-20 of my friends and would cook EVERYTHING. I even did a Friendsgiving and cooked everything alone.
To be in the kitchen is such a joy and know that it will make people happy makes me savor cooking even more.
This simple chicken Milanese is so easy to make and if you want to make it more traditional, the Viennese Milanese way, use veal instead of chicken. I usually make a fresh tomato/onion/garlic/basic salad to top it with and rosemary potatoes, but you can use any vegetable or side you'd like. Or do it the very Italian way, add some pasta!
*To be honest, the measurements for this recipe are really eye-balled here. You can play around too but this is what I gathered for the last time I made this ?
CHICKEN MILANESE RECIPE
-INGREDIENTS-
600g-1kg Chicken Breast Filets
2 cups all purpose flour
1 box Breadcrumbs (Paniermehl)
3-4 eggs
1- 1 1/2 tablespoon Grated Parmesan Cheese (depending on how many eggs used)
1 1/2 teaspoons olive oil
Sparkling Water
Rapeseed Oil for Frying
Butter for Frying
Salt
Pepper
-INSTRUCTIONS-
In a plate or rectangular dish, pour the flour.
Tenderize the chicken breast filet on both sides to get it nice and thin.
With a sharp knife, gently cut three shallow lines on each side of the chicken breast filet.
Set aside and finish the remaining chicken.
In a separate bowl, whisk together the eggs, parmesan cheese, olive oil and sparking water until smooth.
Take the chicken and gently coat and place into the bowl and set aside.
Pour the breadcrumbs in a rectangular dish.
Fill the pan with the rapeseed oil about 1/4 full.
Add 1 tablespoon of butter.
Take a plate and line with kitchen paper, set aside 3-4 sheets.
Gently take a chicken breast filet from the batter and let the remaining liquid drip off.
Place into the breadcrumbs and coat entire filet. Set aside on a separate plate.
Repeat this for all remaining chicken breast filets.
Turn the stove on medium-high heat.
When the oil is hot and ready, gently placed the breaded chicken breast filets in.
Cook on each side until golden (approximately 2-3 minutes depending on thickness)
Place cooked chicken breast filet on plate with kitchen paper.
Repeat until all cooked.
Serve immediately
I hope you guys enjoyed this recipe & that you try it at home ?