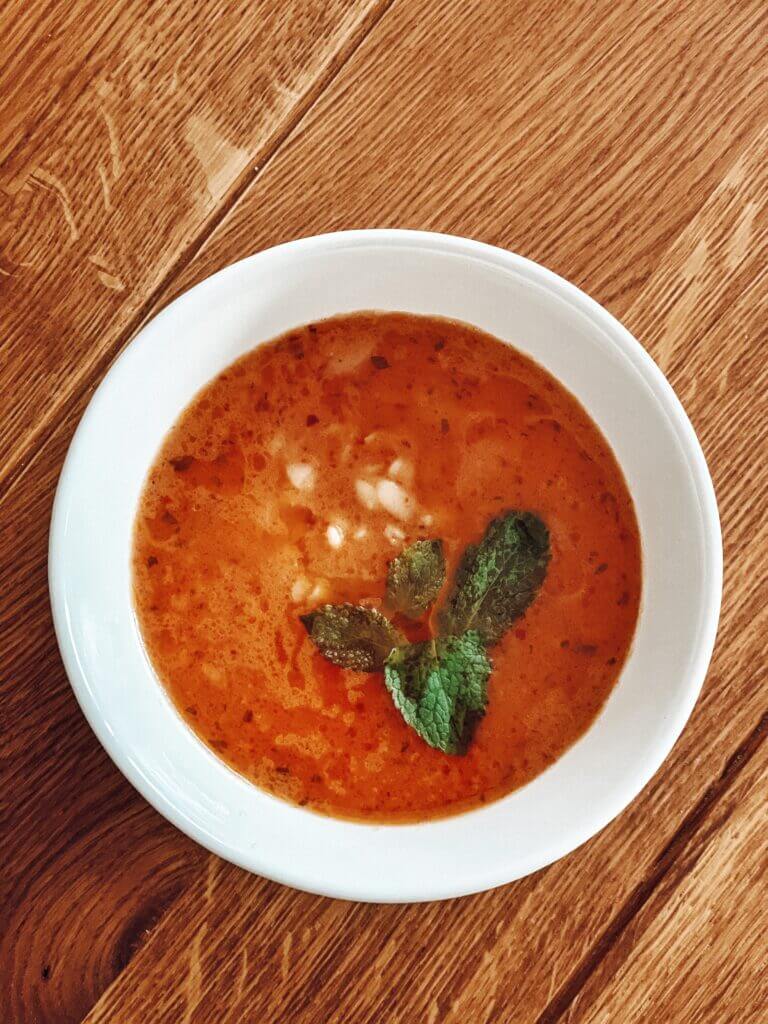 I posted this delicious Turkish tomato soup on my Instagram stories this past weekend & got so many requests for the recipe. It's funny because it was my first time making this soup as it is my mother's recipe & my favorite soup of all time. Naturally when my mother gave me recipe, I had to sort of read between the lines. Family recipes are always so special as the values are usually eyeballed but I narrowed it down as I took time to cook the soup and watch it process to get as close to home as possible.
What makes this tomato soup Turkish? Well, the seasonings at the end. My mother tops the soup off with a mixture of spicy chili pepper & mint with burnt butter. It's a very traditional topping for many things, for example; Manti (Turkish ravioli). To me nothing is more tasty than a home-cooked meal and when I visited my parents in Istanbul in mid-September I requested that my mother made this tomato soup for me. She did, and I realized in that moment, I have to learn to make it.
I made this soup for my husband and I and he absolutely loved it. He typically is not a fan of tomato soup, and neither am I. Unlike most tomato soups, there is no cream, it's not "sour", and it's very light. Or so it seems, at least to me. I love to top this soup off with shredded Kasar cheese (so maybe that might make it heavier) and to eat with a small cucumber/onion/tomato salad. Simple, healthy and delicious. And soups are the perfect rainy-weather meals, and in Luxembourg, you betcha, it's raining ?
Turkish Tomato Soup
-INGREDIENT–
5 large tomatoes
50-56 grams butter
1 cube sugar
Pinch of salt
64-70 grams orzo (or more depending on how much you prefer)
3 tablespoons flour
5 tablespoons butter
4 cups water
Extra butter (I used about 25 grams)
Dried or Fresh Mint (finely chopped)
Spicy Chili Pepper Flakes
–DIRECTIONS-
In a pot, add the 50gr butter and let melt.
Add the tomatoes, sugar cube, pinch of salt & stir.
Cook about 15 minutes or until the tomatoes are cooked and you can smell the butter and tomato (YOU WILL smell it. It's so lovely).
You can adjust and add some more sugar if the acidity is still too much.
In a separate pot, add the flour and butter.
Stir slowly until the color changes into a caramel and it begins to smell good (yes, smell is everything with this recipe!).
Add 4 cups of water to the pot with the tomatoes.
Transfer to the pot with the flour and butter mixture & stir until everything blends.
Add the orzo.
Cook until the orzo is finished.
In a separate small pot, add butter, chili pepper flakes & mint (its a preference, you can add as much as you like)
Cook together until aromatic, and pour over soup.
Stir in gently.
Bon Apetit!
I hope you enjoyed this unique Turkish tomato soup recipe. Please let me know if you're planning on trying it or tried it either in Comments or via Instagram using the hashtag #cookingwithdeniz