I hope you've all enjoyed my menswear Spring & Summer trend reports, if not, you can enjoy them here and here!
This post is dedicated to show you have to have fun with your wardrobe by adding unexpected, yet trendy pops of color. Adding color can be scary, as neutrals are always classic and easy to wear. As a woman, I can understand the fear, as it took me years to step out of my comfort zone and sport bold colors like red, green, yellow, and orange. But once I slowly utilized color into my outfits, the fear went away and now I can't stop. It doesn't matter whether you're a man or woman, breaking out of your comfort zone can tricky.
This guide is dedicated to help you slowly achieve a look that is still your own, yet with the burst of color thrown in to give you a twist. Color is used to accessorize in general, so, let's take a deep breath and begin!
1. Pick a Color
Selecting a color is difficult as there are insane amounts to choose from. Always think about what color you could see yourself in, if you HAD to wear one. Sometimes our favorite colors don't work well with our skin tones and hair colors, so be sure to select a color that compliments you the best. Red is a great color for every man, no matter if you're pale skinned, olive-skinned, brown-skinned, blonde, brunette or even a redhead! If red is pushing the envelope then here are a few suggestions I think would be perfect based upon skin color. Remember, there is no BAD colors, just colors that work best for you! We're all one or the other, cool toned, or warmed toned. To check yourself out and if you have pink or rosy toned skin, then you're cool toned, and if you have golden or apricot tones, then you're warm toned!
If you're cool toned then your options need to bring out your natural radiance. You will look best in blue undertones that are rich and true colors.
Red, vivid blue, raspberry, a rich emerald green, royal blue, purple, and black are great beginner colors.
Pastel colors would be blues and rose-based pinks will bring out the colors in your skin and make you glow.
Other colors that will flatter your complexion would be emerald or icy greens, aqua, teal, soft white, pure white, lemon yellow, ruby red, and sapphire blue are some great options.
If you're warm-toned then opt for colors that have a gold translucent undertone. Pure colors also work well with warm toned individuals.
Colors that flatter warm-toned individuals include; sage green, mochas, bronzes, mango, burnt orange, tomato red, olive green, moss green, jade green, lime green, ivory, eggshell, cream, camel, taupe.
For pastels opt for peach and apricot hues. Now that we've figured out your color scheme, it's all about finding out where you want to utilize color in your wardrobe. You can opt for a pop of color with a chill cardigan, casual chino, crisp button down, a timeless t-shirt, or a sweet pair of kicks.
2. Shoes, OMG, Shoes
If you're just beginning to dip your toes into the wonderful world of color, then there is no better way than getting your feet wet by a pair of snazzy colorful kicks. Whether you're into boat shoes, plimsolls, or sneakers, this is a great way to start your transformation into color.
These red CREATIVE RECREATION sneakers is a great color, not too bold, but still a great splash of color. Wear all black, or mix up your jeans and t-shirt routine with a punch of pop. Creative Recreation is one of my favorite companies for menswear sneakers, they're funky yet clean and super chic. You can find an array of cool colors and unique styles. So be sure to check them out.
Boat shoes, a hot Spring/Summer trend will leave your feet comfy while looking super stylish, these from SPERRY TOP-SIDER are the classic of all classics when it comes to boat shoes and they have a plethora of unique colors and color combinations. The yellow adds a bit of sunshine, but you can go for any color your heart desires. Ahoy Matey!
You can also COLOR-BLOCK your kicks and mix up colors like these boat shoes, also from Sperry-Top Sider.
These canvas kicks by ZURIICK are easy, and comfortable. The blue makes them rather versatile for those who aren't ready to go head first into the rainbow pool and want to stick to a dash of color rather than a statement.
These from PRO-KEDS are high-tops so if you're into statement making, then this is your shoe.
Alright, enough with the shoes! Let's move on.
3. Hot Pants
No, not those kinds!
Now that you've seen a few ideas for footwear and how you can incorporate color starting with your feet, let's move upwards…pants. Now, let me tell you, if you're doing a colored pant, it's best neutralize the top. Stick to the basics like gray and navy on top, and let the pants do the talking…or walking.
A colorful denim, chino, or short are great ways to spruce up your look. A colored bottom adds a touch of playfulness and might I add, fearlessness to your wardrobe. You can pick from any color of the rainbow, but tapered pants look best when wearing colored pants.
Tips:
+ When wearing a colored pant, neutralize the top. Opt for classic hues, like white, gray and navy.
+ If you're wearing a cardigan, keep it neutral. If you're fearless, you can go for a colored cardigan that plays well with your pant. For example, if you're sporting a red bottom, you can compliment it by color blocking and sport a royal blue cardigan, or white with a few stripes on the bottom. If that's not your think, the simpler, the better!
+ Want to color block? Pair your colorful pants with a complimentary top. Orange pants? Purple top? It works. Red pants, Bright blue top? By all means. Just be sure to keep the tops cleans and fuss free- no hard wear, no designs. Solids are best.
+ If you want to sport a patterned button down be sure the print is light and the colors are neutral. A taupe checker print with a white base is a good example.
+ Keep shoes simple, shoes can take away and keep your lower half cluttered.
+ When wearing colored pants, make sure they're the focus of your outfit. Too much is never a good thing, but it's always good to compliment your pants. Just don't match too much, unless that's your thing.
These tomato red chinos are a good color for Spring and Summer from LIFE/AFTER/DENIM.
Orange Delight? These TOMMY HILFIGER chino's are bold and juicy and will definitely make you the main squeeze when it comes to fearless color.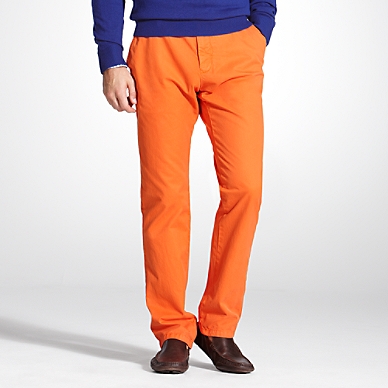 If these bold colors aren't your thing, then you can still play the game of a colorful pant. Instead of brights like this, you can go for a royal blue, or green. Those colors are great and not too "in-your-face" and you can wear them with practically any color combination as the colors are fairly easily adaptable. American Apparel has a great variety of colored pants, so check them out and find your perfect pair!
If you're into shorts, then you can still away with these trend. Just find the pair and color you like best and make it your own. Colorful bottoms are perfect for Spring/Summer and really do add personality to your look.
For those who are unwilling to sport colorful bottoms, you're in luck as we're moving to the top!
4. Tees & Tops
Let's start by saying that you can never go wrong with a basic solid T-shirt. Whether the T-shirt is black, navy, white, or purple, T-shirts are forever a staple in any man's wardrobe.
I don't really think pictures are necessary, as a T-shirt is a T-shirt! Just opt for a color that makes you feel confident. It's easiest way to meddle with color.
For tops, a colorful button-down is a good way to keep a tailored look yet still brighten up the world. This icy cool blue hue is a great easy way into this trend by WESC.
This HOWE long-sleeve chambray button up is a great color too, not too bold, not too demure.
If you are a prep who wants some spring in your step, a color polo is always classic. This lush green LACOSTE is a great color.
This RALPH LAUREN yellow polo is a great color and definitely will make you shine.
These are just examples of tops that will allow you enter the world of color, and if T-shirts and polos are not your things, perhaps a cool cardigan will do the trick.
5. Cool Cardigans & Snazzy Sweaters
Cardigans are a classic staple as they are great lightweight layering tools for the warmer temperatures and accessorize your winter wear by adding color or warmth under a coat or jacket.
I love cardigans on men as I think they add a bit of prep, even if you're not the preppy kind.
This G-STAR electric blue cardigan is sure to punch up your summer khaki's!
The summer stripes on this PAUL SMITH cardigan add a funky flair and the green is a wonderful color for Spring.
The blue BOSS sweater is a great layering piece. The V-neck isn't too deep and the subtle white trim makes me think of yachting.
When wearing cardigans or sweaters, be sure they are a compliment. The bolder the cardigan or sweater, the simpler the rest of your look should be, unless you're a color-block kind of guy. The be sure to select colors that pop yet compliment each other.
When shopping for color, it is really important to respect your color scheme. You have to love and be willing to wear the colors you choose. It's hard to branch out, but once you do, you will find the hues that best suit you and the colors that will you actually wear.
Whether you go full force into color, or take it step-by-step, this is such a fun trend. Fortunately for Fall/Winter, pops of color with muted tones will still be sizzling, so in the meantime, keep that sizzle and be the brightest!
The most important thing about fashion, regardless of trends, is that YOU are comfortable and confident.
I hope that this post has inspired you, or at least was interesting to read. Thank you so much for following my blog!
If you any questions feel free to Tweet me, or send a question and I will make a post dedicated to it. Simply e-mail lefashionmonster@gmail.com !