New Trend Alert!
I am a sucker for T-shirts with designs on them, especially one that have some sort of meaning. In this case, Maryam Gueramian dazzles us with her Evil Eye t-shirts. Throw one on for protection against jealous lovers, or just in general to spruce up any outfit with this great t-shirt.
Here's a little information about the line:
"The design, inspired by one of my own paintings of the evil eye, is printed on the back or the front of the shirt" says designer, Maryam. Being of Iranian decent, she knows a lot about the symbol; "the evil eye symbol originated in the eastern culture but it has now gained popularity among the western culture as well". This is true, I have come across many evil eye jewelery designs and was pleasantly surprised to see a ready to wear piece with the symbol on it.
"I believe in the power of the eye, which is why I originally made the painting and since I'm also into fashion and design and noticed that everyone is wearing the eye charms, I thought that they would look great on shirts and gain popularity among those who believe in the evil eye", Gueramian states.
The brand called "Confiance" which is inserted in a thinking blurb, makes the brand rather unique with its fun logo. Confiance means "confidence" in French, is the reason why Maryam chose the name. Why in a thinking blurb and why 'Confiance'? According to Maryam, "due to my strong belief that if you think confidence then you feel confident and show confidence as well".
Great way to name a brand, nothing feels better than wearing a brand that means and makes you feel…confident.
The shirts, which are based off her well-known Evil Eye painting is silk screened on form-fitting burnout t-shirts, the colors available so far are white burnout, black burnout, grey cotton, and hot pink cotton with the option of having the design either in front or on back of the t-shirt.
It's good that the evil eye is no longer strictly faith-based, it has become a universal image and has the opportunity to branch out in different realms for all kind of people, no matter what religion or culture you are. Also, it's nice to see something like this influence fashion, especially since it's symbolic.
She's just starting to branch her line out now, and I have no doubt that these shirts will be flying off the shelves.
Here's a look at some of the styles: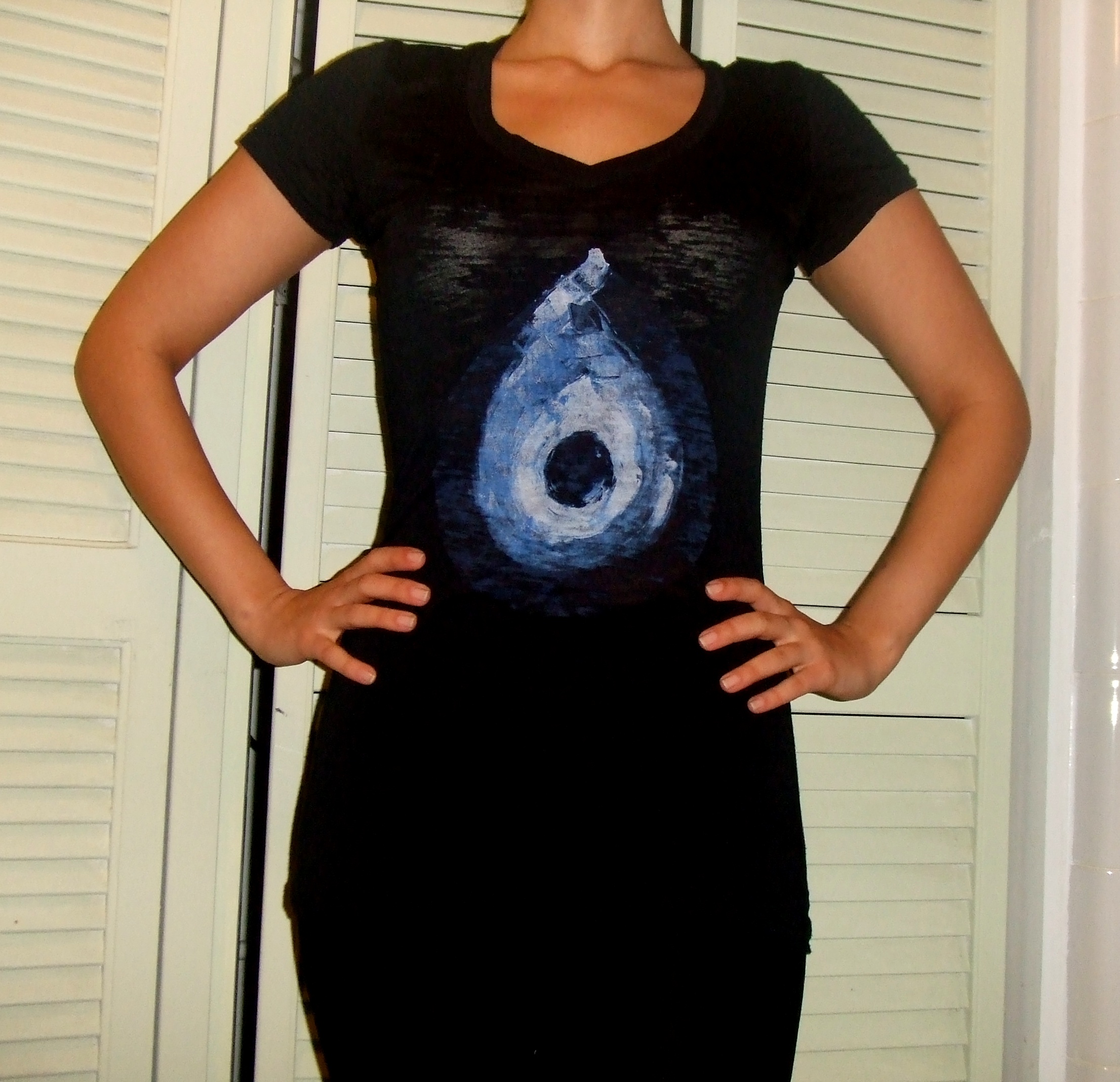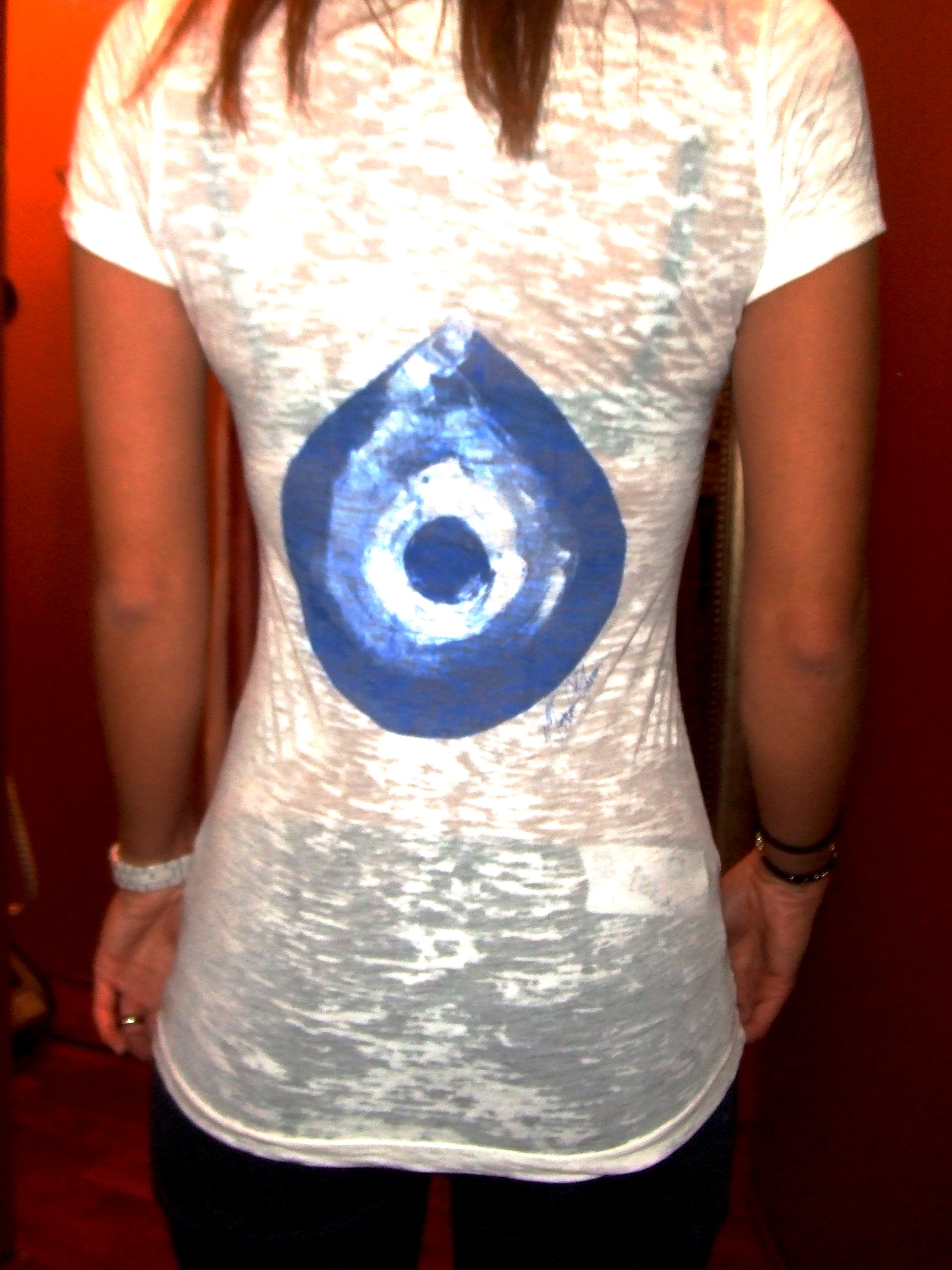 Maryam's shirts are being sold at multiple boutiques in Los Angeles.
Here is a list of places to buy the shirts:
Note: Both front or back designs are available in each color and size (S, M, L, XL)
Beauty Bar Apothecary – 158 South Beverly Dr., Beverly Hills, CA
Blush Boutique Encino -16101 Ventura Boulevard, Encino, CA (818)788-3893
Blush Boutique Calabasas– 23671 Calabasas Rd, Calabasas, CA (818)222-5874
Metalica – 7622 Melrose Ave., Los Angeles, CA
For more information on Maryam Gueramian and her designs as well as amazing artwork, please check out her website at:
What do you think of these shirts? Pretty snazzy, huh?