Happy Tuesday to all of you! I want to share with you a tweed little outfit and a little something new.
Today's post will be not only an #ootd post, but also sort of a personal update on life now that Luxembourg is coming into phases of de-confinement during this COVID-19 pandemic. I think it's so valuable to share experiences during times like these to really relate to others who may feel the same way during quarantine.
Since early-March the world began locking down into mandatory quarantine. This radical adjustment was not easy to follow as it completely altered so many lives and lifestyles. But, in order to come out stronger as a nation, and for our Planet, we must adhere to the "New Normal".
As the world slowly starts to come out of confinement, we are faced with new challenges that one must quickly adapt to. That nothing is the same. We can go the shops again, but we can't go visit our parents who are in another country. There are so many things to be grateful for but so many things I feel I've taken for granted.
One thing, my parents. I love my parents so much, and now I feel I never really realized how much I worry about them. I guess I always saw them as MY caretakers, not the other way around. But, I wish I could be near and take care of them. See them smile.
Now what I try to do is every other morning or evening walk I try to call one of them. I try to incorporate them into my daily routine like they did for so many years for me. This mini "life hack" has really kept my spirits up while being under quarantine.
TALK A WALK, BUT MAKE IT FASHION
Another life hack for myself, is to dress up three times a week for these walks so that it motivates me to create and feel inspired. It's a personal thing because once i'm in sweatpants past 11 am…i'm in them until bed. Don't judge me!
Anyhow, my wonderful stepson, yes-you read that right, more on that in another post, took pictures of me while walking our puppy, Coco. I have to say, I always encourage him to get creative and I let him have fun with it. So, thank you Leon ?
This look was inspired by my purse actually. I have an obsession with Coco Chanel, as a woman. She always played by her own rules, made her statements without being over-the-top & did it with such elegance. Her confidence of who she was made her even more fierce.
This CHANEL Mini Flap Bag was brought home from New York City last year when we visited for a days. I also give all my purses names. Hers is Gigi.
Lame? Probably. Do I care?
Like Coco would say, Non.
Anyhow, I dressed up as if I were to be going strolling through the streets of Paris, aka, the city center of Luxembourg. Since travel is prohibited and country borders closed, Luxembourg will now be my country to truly explore! Looking forward to dressing up to explore this country a little better.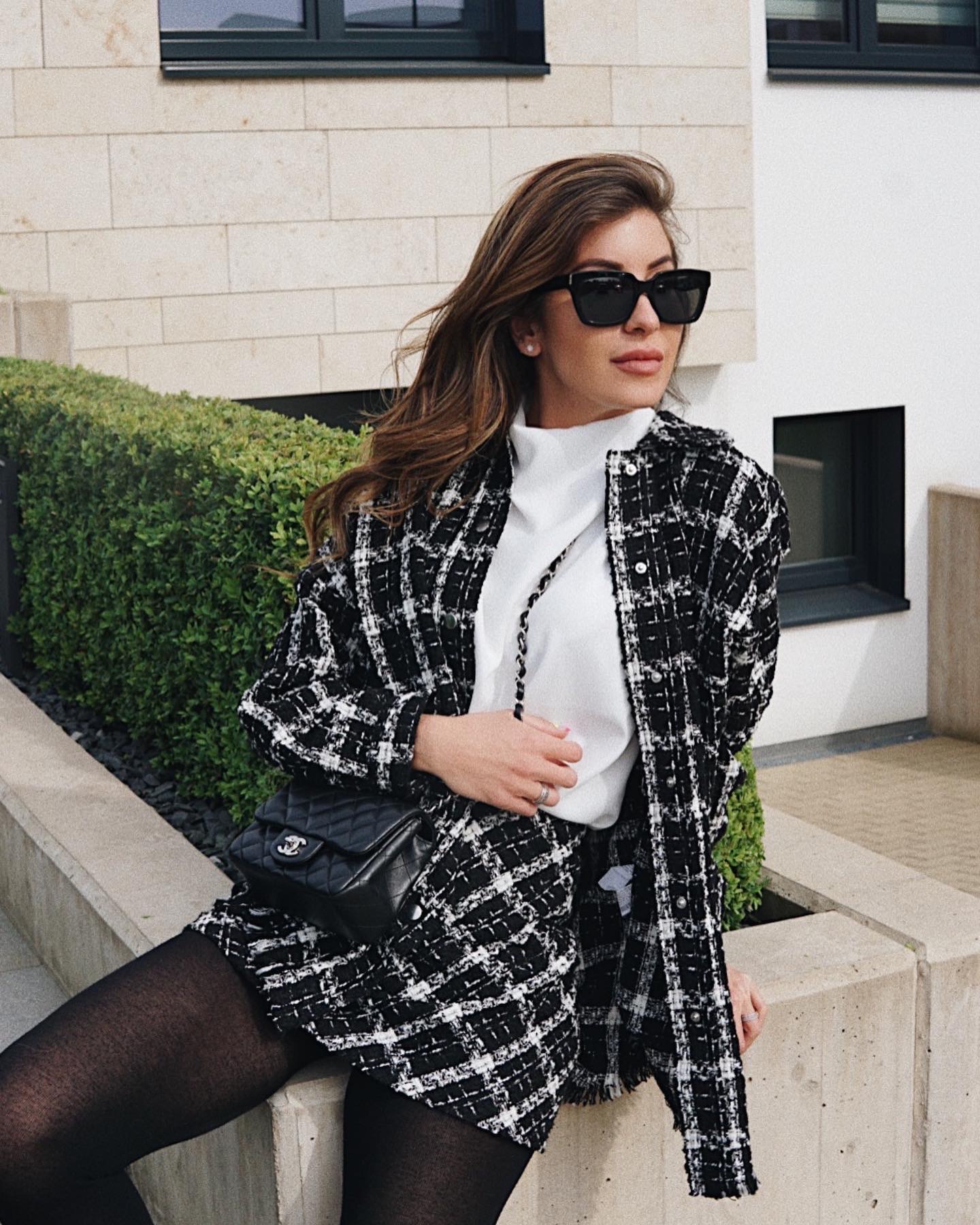 #OOTD details

:

Check Tweed Jacket: Zara (get it here)

Check Tweed Mini Skirt: Zara (get it here)

High Neck Ivory Shirt: Zara (get it here)

Black Mini Flap Bag: CHANEL (ask local shops/online)

BOLD 1 Sunglasses: Saint Laurent Bold 1 (get them here)
-SHOP THE POST-