Summer time is one of my favorites, not for the hot days, but more for the warm nights. No matter where you are, having a nighttime outfit for a summer night date is a must. For the summer, I lock away my LBD's (Little Black Dresses) because when it's warm and beautiful out, why be dressed in black? If black is something you need to have, then have a pop of color with your shoes and accessories! This post is all about color.
This particular post is all about travel and no matter where you go this Summer, these looks are sure to make you stand out! I'll be styling looks for Los Angeles, London, Istanbul, Paris & St.Tropez (divided into two posts).
Let's begin our travelling to…
1. LOS ANGELES
Los Angeles is known for it's laid-back vibe and beach bunny feel. On the contrary to popular belief of Los Angeles being super dressy, it's actually a very mellow place. Unless you're in Hollywood going to a club, you don't need to over-do it. You can go to a nice restaurant in a cute floral dress and heels! When in L.A…the simpler the better (I'm serious).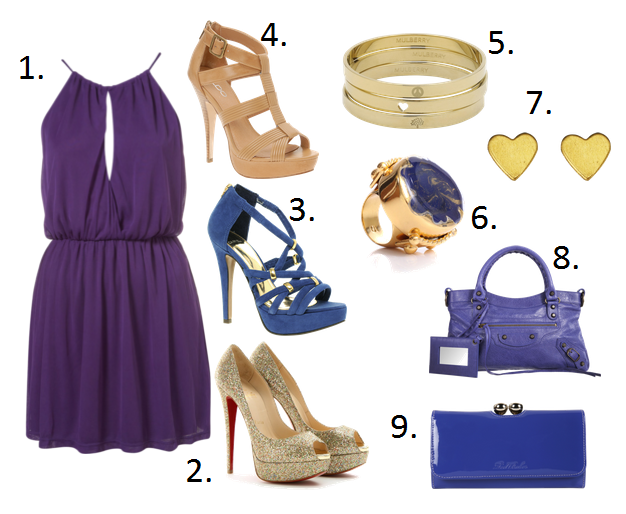 1. Purple Split Neck Halter- TOPSHOP
2. Glitter Pumps- Christian Louboutin
3. Blue Suede Heels- TOPSHOP
4. Nude Heels- ALDO
5. Gold Bangles- Mulberry
6. Blue Stone Ring- Yves Saint Laurent
7. Solid Heart Earrings- AUSTIQUE
8. Blue Handbag- Balenciaga
9. Blue Clutch- Ted Baker
The reason I love Purple & Blue is that they compliment each other so nicely. It may seem like a weird combo at first, but when put together, it's one hot look. Blake Lively recently sported this color combo and let me just say, she turned heads. You can always do a color with nude as well, but finding colors that complement each other is a must!
2. ST. TROPEZ
St. Tropez is a luxury beach town in the South of France. I have never been, YET, but I can only imagine how fierce everyone will look in beachy-luxurious outfits at night. I myself, am way too excited to start shopping for this part of my trip, and I stumbled upon this look which can be dissected and turned from a daytime look to a nighttime. Below is the nighttime version, but this dress is to-die-for and I had to utilize it in this portion of my date night outfits. After all, how dressy do you want to get in St. Tropez? It's like the Bodrum, Turkey of France, and we don't go there to only be stylish, but we go there to party! This look is daytime/dinner time/and party time appropriate. Score!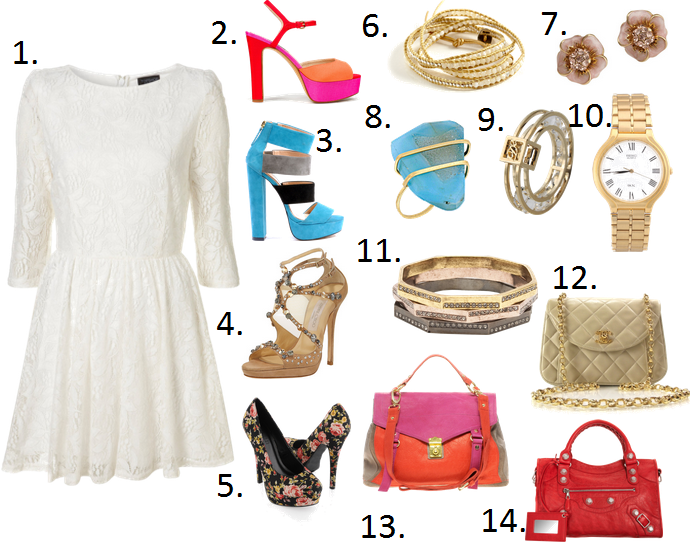 1. Dolly Dress- TOPSHOP
2. Neon Canvas Sandal- ZARA
3. Color Block Sandal- SIREN
4. Stone Sandal- Jimmy Choo
5. Floral Stilettos- Forever 21
6. Wrap Bracelets: Chan Luu
7. Flower Earrings- Urban Outfitters
8. Turquoise Ring: Les Pommettes
9. Ring- Dsquared
10. Gold Watch- American Apparel
11. Bangles- Paige Novick
12. Nude Bag- CHANEL
13. Colorblock Handbag- ASOS
14. Red Handbag- BALENCIAGA
I know I kind of threw a lot of things on top of each other, but there are SO many options with this look that I just couldn't resist basically throwing together about three outfits at once. You can literally do ANYTHING with this dress as it's almost like a blank canvas. If these shoes are too funky, you can do a solid colored pump, think blue, pink, red, or purple, or keep it totally simple and accessorize the dress with a bib necklace, or chunky pendants.
Stay tuned for Paris, Istanbul & London summer night looks!
Which look did you like best?