Who makes the perfect flared jean? Well, Dynamite. After scouring the internet for a light-wash flare jean, I was begging to feel discouraged. I'm a sucker for denim and I must say my dark wash collection in skinny and flare is to die for, but light-wash denim has been a struggle. Sometimes the color is not right or the fit is off, so it's been a mission to find the perfect pair of flared jeans.
I love these because they not only fit amazing, the color is on point, and I love the side buttons. They give the jeans a little extra flair. I paired these bad boys with a white bodysuit, turquoise gems from Lena Bernard (my new favorite jewelry designer) and a yellow clutch for a bit of color. Marley and I shot together again, and we totally went for the "retro" vibes for this shoot. We found this charming little house in Playa Del Rey and I want to move in ASAP.
The thing I love about exploring L.A is realizing how cool California is. There are so many pocket areas in this city that are such perfect example what the easy breezy California lifestyle is all about it. I think the whole shoot exemplifies that.
The reasons I love California + Los Angeles are as follows:
The weather. The weather in Southern California is like a dream if you didn't know already…I feel very spoiled here!
The proximity of the beach. I'm such a beach bum and the fact it's only a few miles from my house is just heavenly to me. I always said, I would give up the city life to be a beach bunny.
The creativity. I love how creative people are here in California, sure we have all the "actors" and "models" but I'm talking about the creativity that people just expel from the nature we live in. We are surrounded by mountains, the beach, the desert…it gives us the inspiration to show it off in the way we dress, eat, make art and write.
The food. I used to think L.A was a joke when it came to food, but it's come a long way in the past couple years. I love that there are so many local markets and restaurants where food is truly farm-to-table. I think the whole concept of supporting your local community and business is essential to a flourishing city.
The energy. I love that I can be mellow by going on a hike or hitting the beach, have a cozy night in, or a wild night out. The various elements of Los Angeles really allow you to utilize so many of your personality traits, even some you didn't know existed. That's why inspiration is so key to life.
I think every city has amazing elements to it and I feel blessed to live to where I live. Where do you all live? What's your favorite part about the city you're in?
Also, use the code DENIZ25 for any purchases 🙂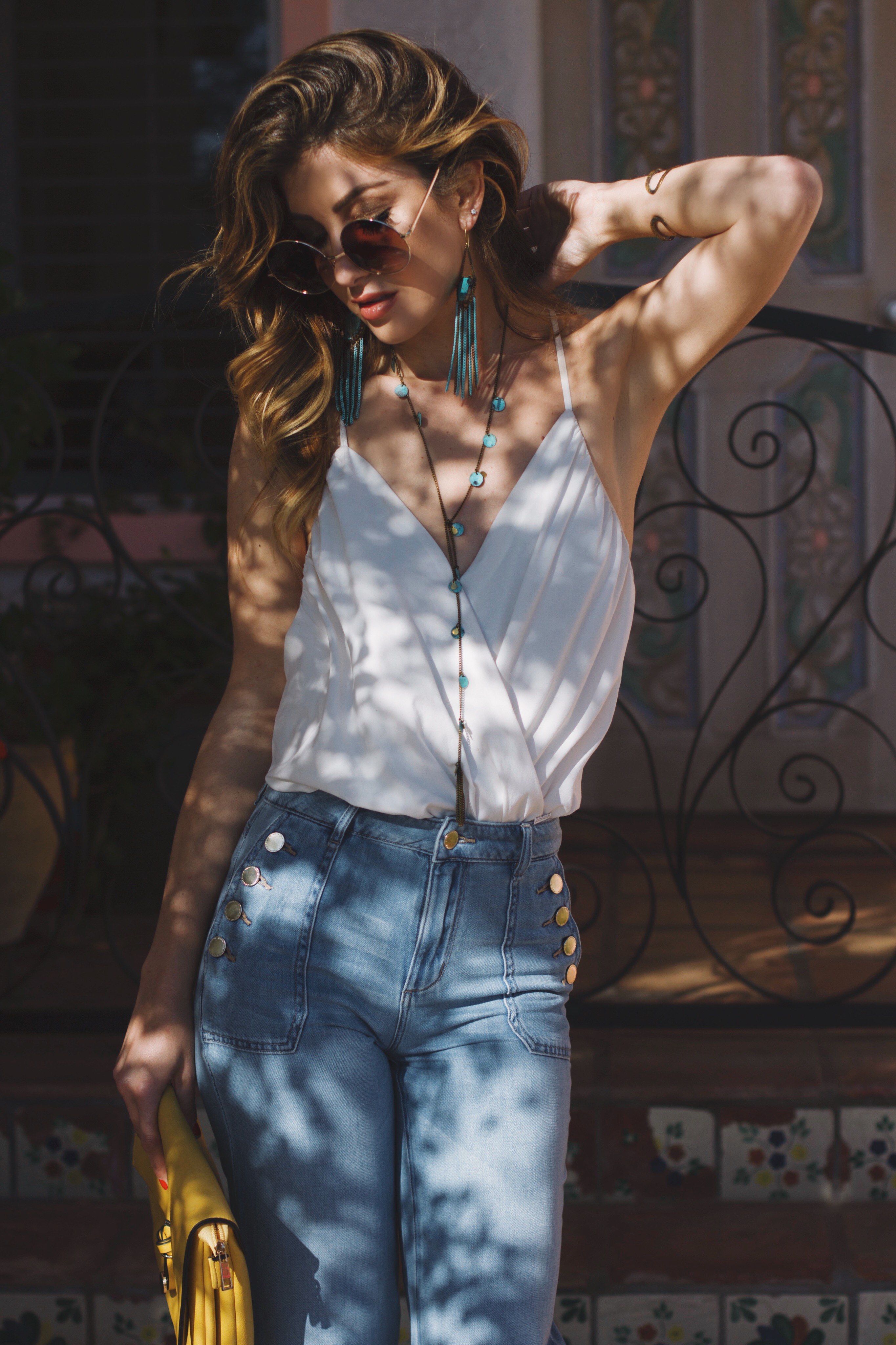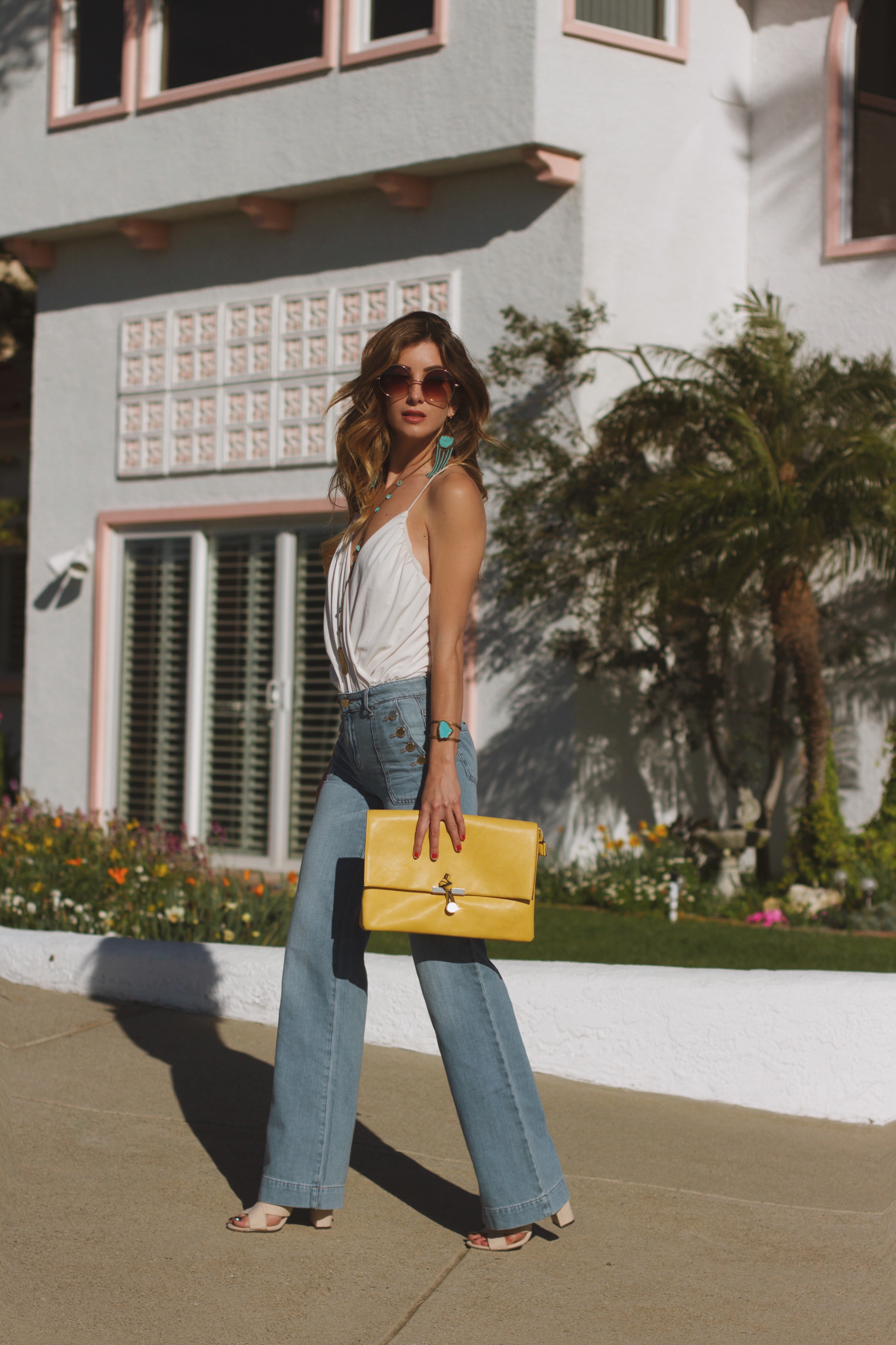 Photography by: Marley Cumbee
Heidi High Rise Wide Leg Denim: c/o Dynamite (get them here), KIYA earrings: c/o Lena Bernard (get them here), Clutch: old, Bodysuit: old (similar here).
What are your thoughts on these jeans? YAY or NAY?