I only watched one episode of the City, and the only reason I did was so I could see what Olivia Palermo was wearing. After watching that one episode, I just couldn't bother hearing her whine about how miserable her life was, so instead, I just scoured the internet to see what her latest looks were.
I think she has some of the best style in the industry. She is always so polished, pretty and always adds and unexpected edge to her pretty and chic looks. If I had the budget to spend on my wardrobe, I'd pretty much buy everything that girl has worn.
Below are a few of her looks that I absolutely adore that is definitely on the right track for Spring 2011.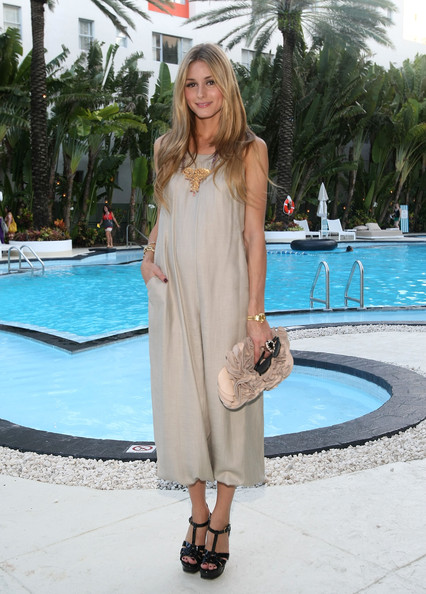 I love this neutral dress and the length is just perfect. Olivia's Yves Saint Laurent "Tribute" Sandal is the perfect shoe for this smooth blend of neutrals. The gold necklace lays perfectly with her dress. Love.
I absolutely love khaki's and long-sleeve button downs that have a neck-tie. The cognac belt and bag are the perfect compliments to this outfit.
Nothing is sexier than a frilly white dress, or top and skirt with black accents. I immediately have a Chanel vibe from this look. I love the girly outfit and the black fabric necklace adds a nice edge to it.
Probably one of my favorite looks Olivia Palermo has ever worn. I love this neutral palette and her hair is simply flawless. I would transport myself into this outfit if I could.
Fringe and Ruffes and a Hermes Birkin, Oh My! I love the mixing of textures in this look, and the silver ballet flats are perfect with the cool hues of the skirt and top. The Tan bag adds a nice neutral balance and softens this look unlike a black handbag which might take away from the the outfit and harshen the feel.
These are just a few looks I have com across, but I won't be stopping. Olivia Palermo has major style, and Bravo! to her to pulling it all off.
What do you think of Olivia Palermo's style?