It's that time again, Coachella!
A time where talented artists perform just for you. And by you, I mean the very extensive eclectic crowd that fills the Indio desert with your swanky fashions and desire to hear some great music.
This series of posts are for you, and how you can get inspired by my ideas of what to wear to Coachella.
Coachella is not only about music, it's about fashion. Coachella fashion is a huge mix from fringe bandeau's, denim shorts, lace crop tops, maxi dresses, leather, and everything in between.
Whether you're a bohemian rockstar, a flirty floral frock lover, a casually cool Coachella goer, a socialite who loves to be VIP, a hip hipster or a total hippie, I've got looks for you.
These Coachella style posts are here to inspire you, so let's begin with one of my personal favorite kinds of Coachella fashion: The Bohemian Rockstar.
The Bohemian Rockstar loves to be comfortable, but trendy. Also, tops are not required, most bohemian rockstar's choose bikini tops over actual shirts…I have no objection. Accessories are the ruler for this trend. Fringe, Denim and lots of baubles for your pretty fingers, this look will have you saying "I'm tired of pretending I'm not a total bitchin' rockstar from Mars", sans the Charlie Sheen drama. Ultimately, you are a total bitchin' rockstar from Mars…
Here are three Coachella-worthy looks, just for you…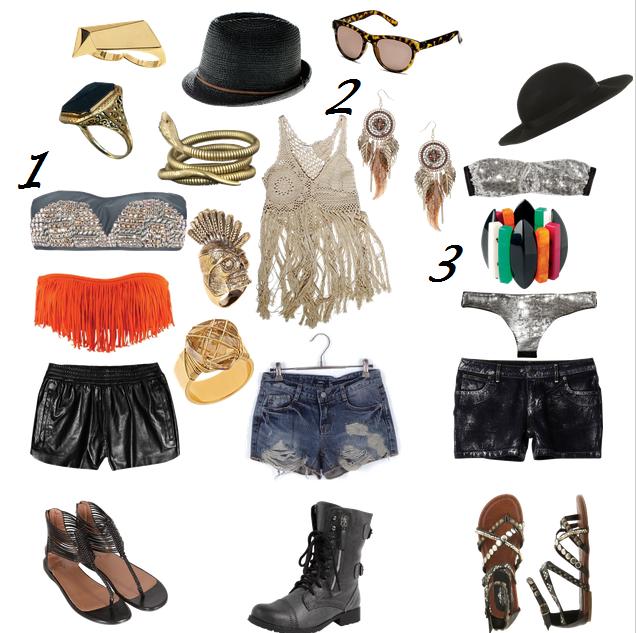 Look 1:
Leather Shorts: EXPO $275
Strappy Sandal: Azzedine Alaia 805 EU
Bandeau: L*Space Dolly Fringe Top $76
Bandeau: Embellished Bandeau $230
Look 2:
Distressed Denim Short: Secret BB $62
Combat Boots: Dressrail $16
Crochet Tank: Foley & Corrina $238
Look 3:
Black Shorts: ELLE SHOP 82 yen
Gladiator Sandal: WetSeal $23
Sequined Bikini: Just Cavalli $215
Accesories (that can be universal to each product):
Gold Geometric Ring: Ariella Collection $38
Black & Gold ring: 1920's Onyx Ring $ 335
Black Fedora: Madewell $58
Snake cuff: Lang Antique $2,250
Corndolly Skull Ring: Alexander McQueen $295
Gold Woven Ring: Janna Conner $70
Sunglasses: MNG $35.92
Feather Earrings: Dorothy Perkins $20
Felt Fedora: TopShop $50
Colored Bracelet: Multi Bracelet $59
Well, there you go.
Rock it out.
at Coachella.