In my previous outfit post I discussed how creativity is essential in life, because without it, we can feel totally stagnant. This particular shoot I did with Marley was influenced heavily on the seventies and old-school California vibes. Soft summer nights, golden hues, and pastels is exactly how I envisioned this shoot to look aesthetically, but the feelings of being a wanderer is what completely inspired this series of images.
I found this adorable fuzzy knit dress at Forever 21 (they are seriously crushing the game right now) and got these amazing gray patent booties with a lucite heel from ZooShoo. For some reason, the pairing worked perfectly in my eyes. I knew this look needed a boost, so I borrowed Marley's oversized denim jacket to complete this retro look.
I have been feeling ultra passionate about expressing myself differently lately and taking my biggest fears and putting them in front of me. I am a firm believer in challenging yourself and letting yourself conquer your biggest obstacles, or at to least to try. One thing I faced this week is public speaking. I get SO nervous talking in front of a crowd, and I was grateful for the opportunity to MC the Turkish Republic Day Reception last Friday night. 450 people…all eyes on me. I was shaking. But, I did it. Sure my hands were shaking for the first 5 minutes and I felt completely vulnerable. But, I am so happy that I did it and took that chance. I am sure I'd still be super nervous if I did it again, but at least I can say, I did it!
One of the biggest things I like to tell people is to do something that's outside your comfort zone once in awhile. You'd be surprised at yourself and proud of how much we sometimes talk ourselves out of something because of our insecurities or fears. It's the best feeling knowing you can do something you thought you'd be terrible at or couldn't do.
I know I've been much more personal in my posts, but I feel that this platform is more than just what I'm wearing or what my favorite brands and products are. This is place where I hope you all can relate, or give feedback. I am a human being with flaws and I too go through so much that most of you may not know, but I'm willing to show you that, behind all these images that are carefully crafted, there is an authentic woman who is like you.
I just want to say thank you to all of you for standing by me the last six years of me doing this. It means more than you can possibly imagine.
Let's get back to the fashion, eh? I'm loving the feeling of this pink fuzz knit dress because it basically resembles a lovely blanket, that's fitted. It's so soft and cozy and makes wearing it really fun. I also have been loving the color pink recently, it's almost like reconnecting with it. I never usually color, so taking this little risks has been super fun!
Still have to find a way to kidnap this oversized denim jacket…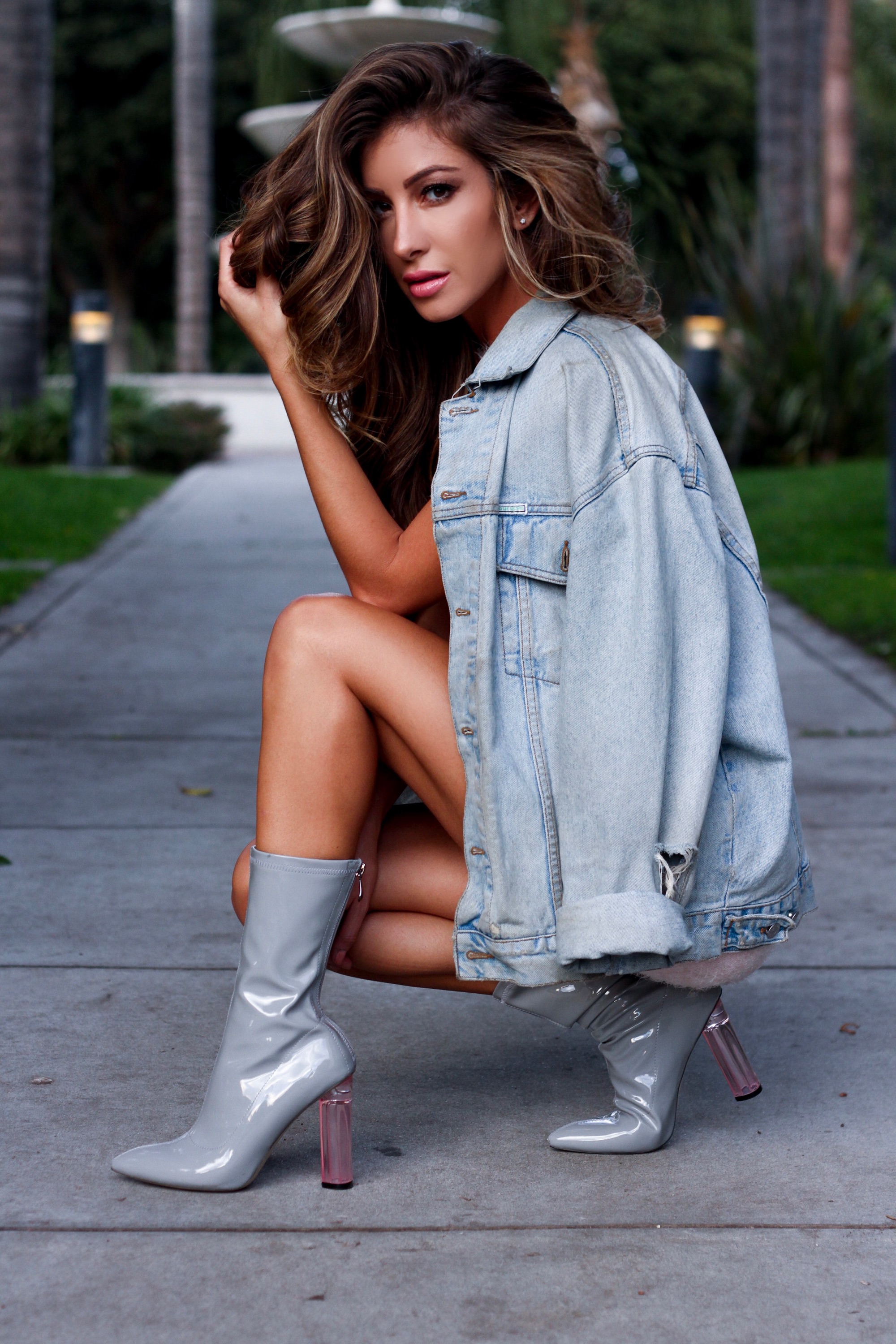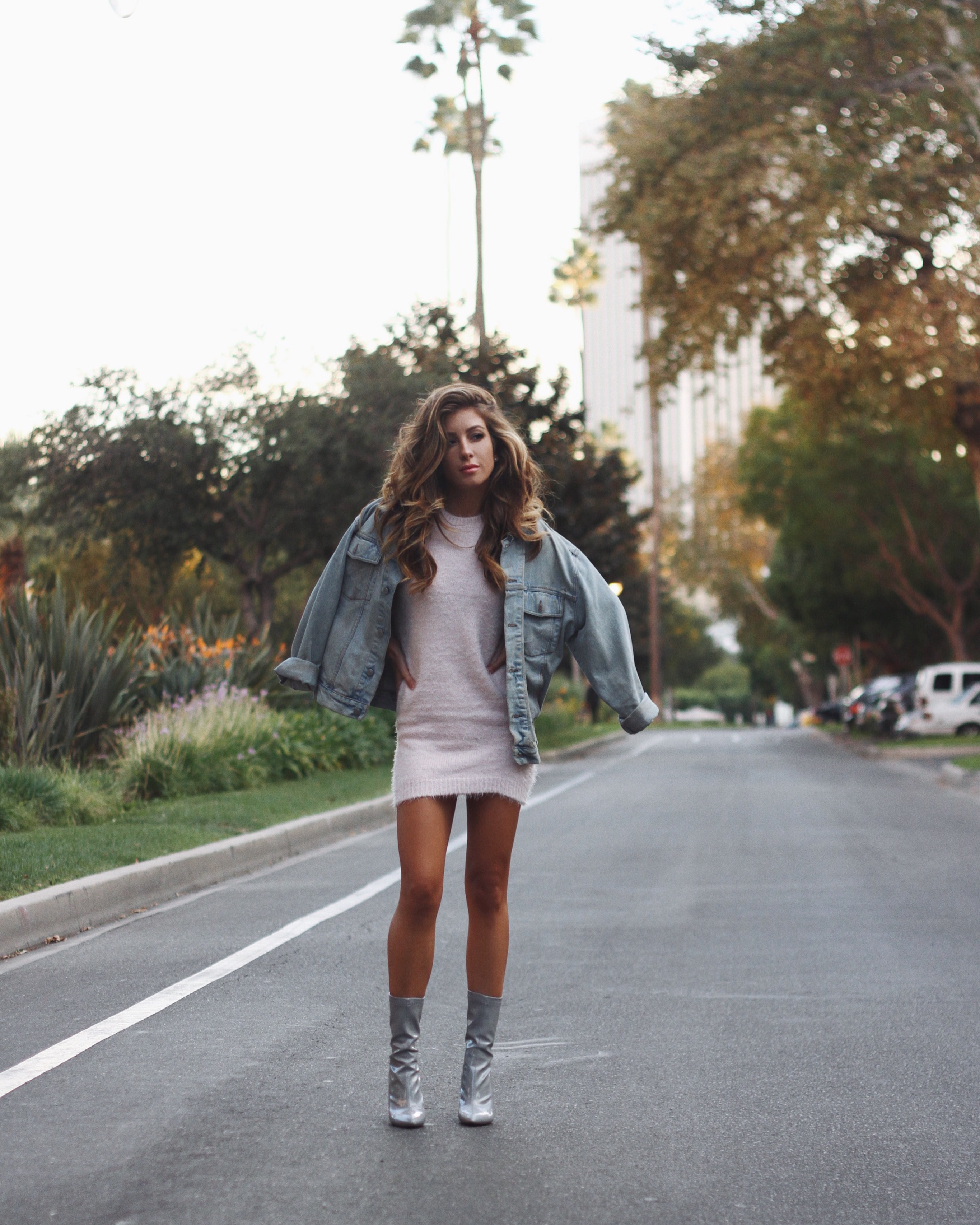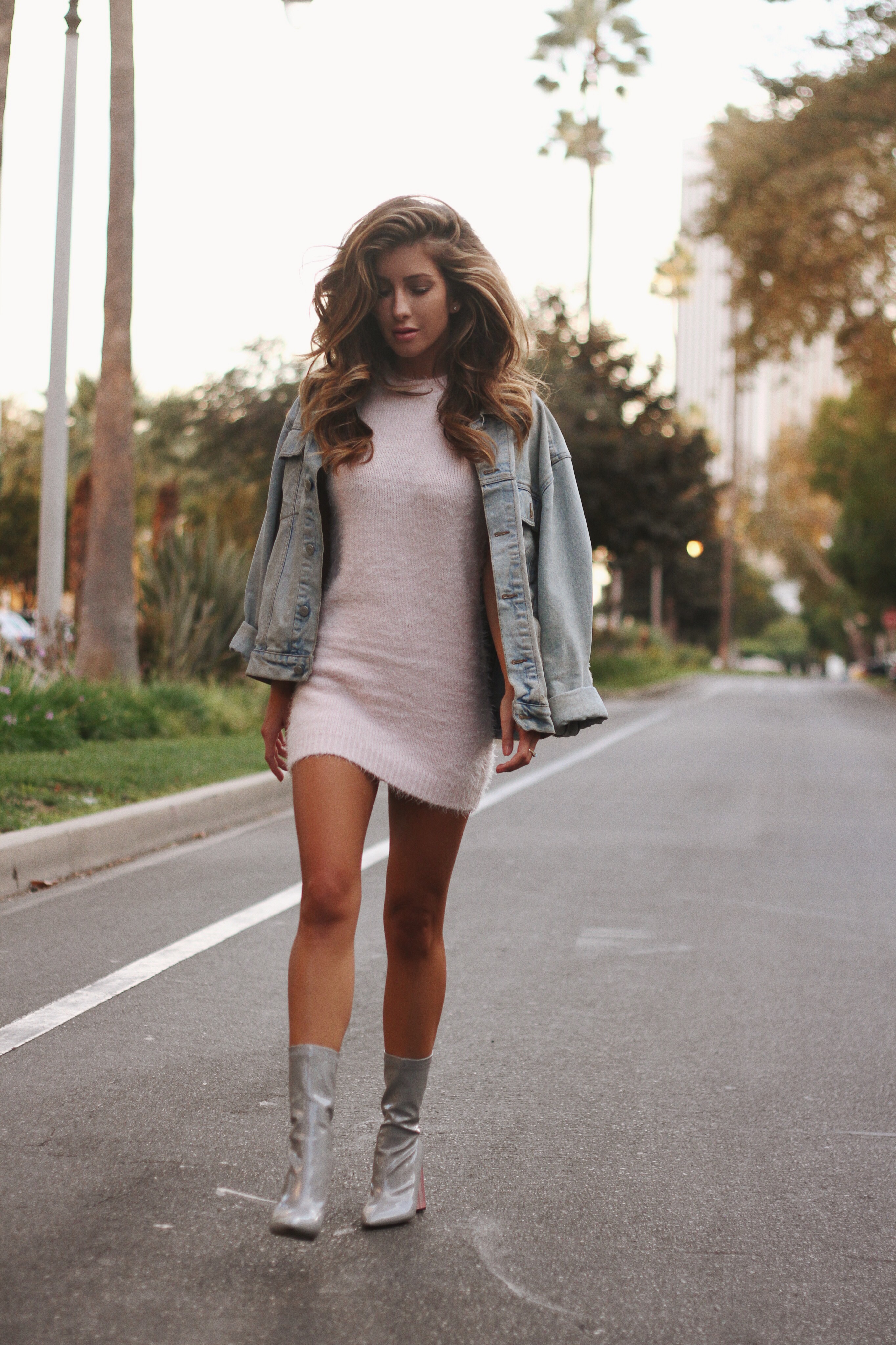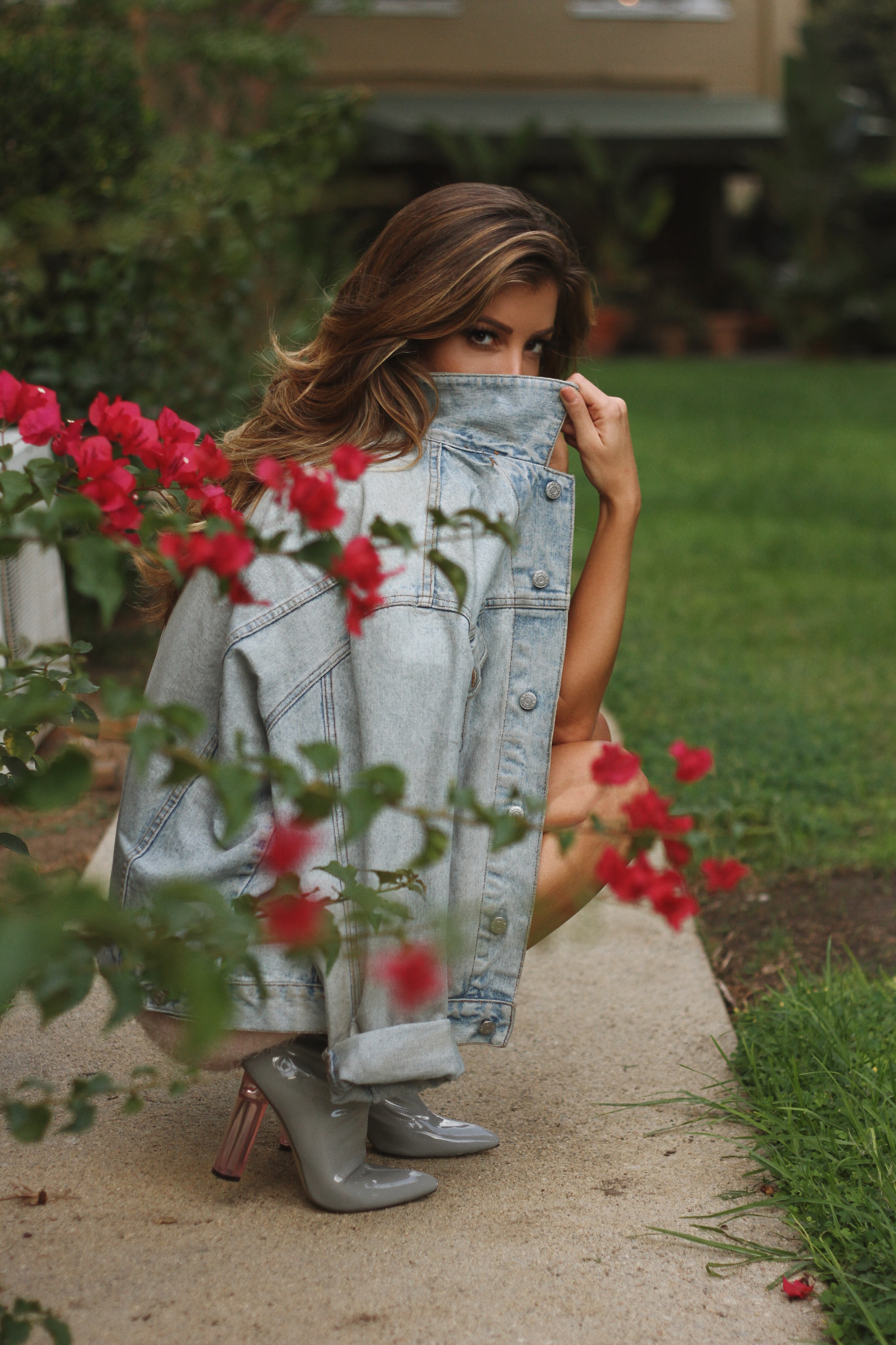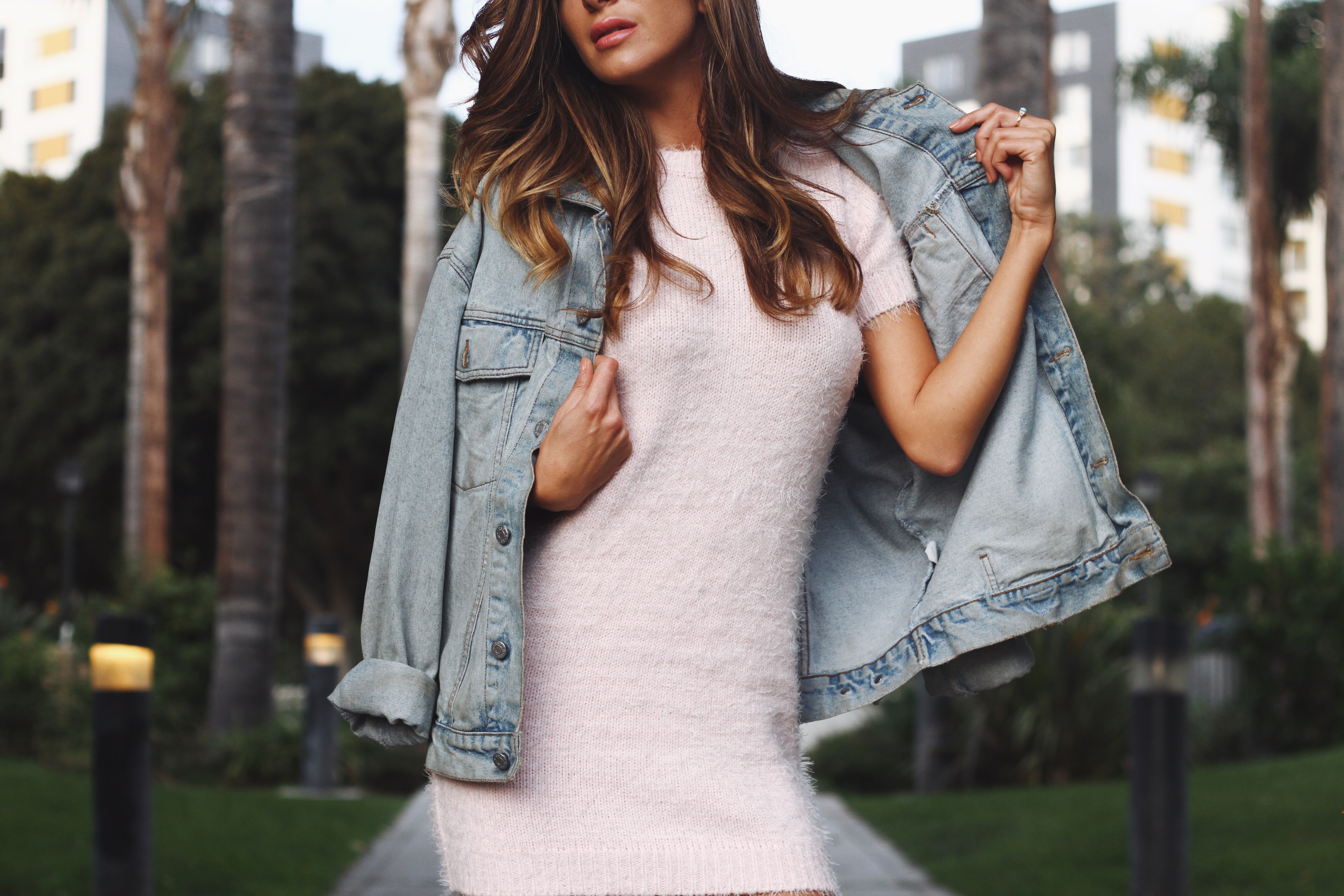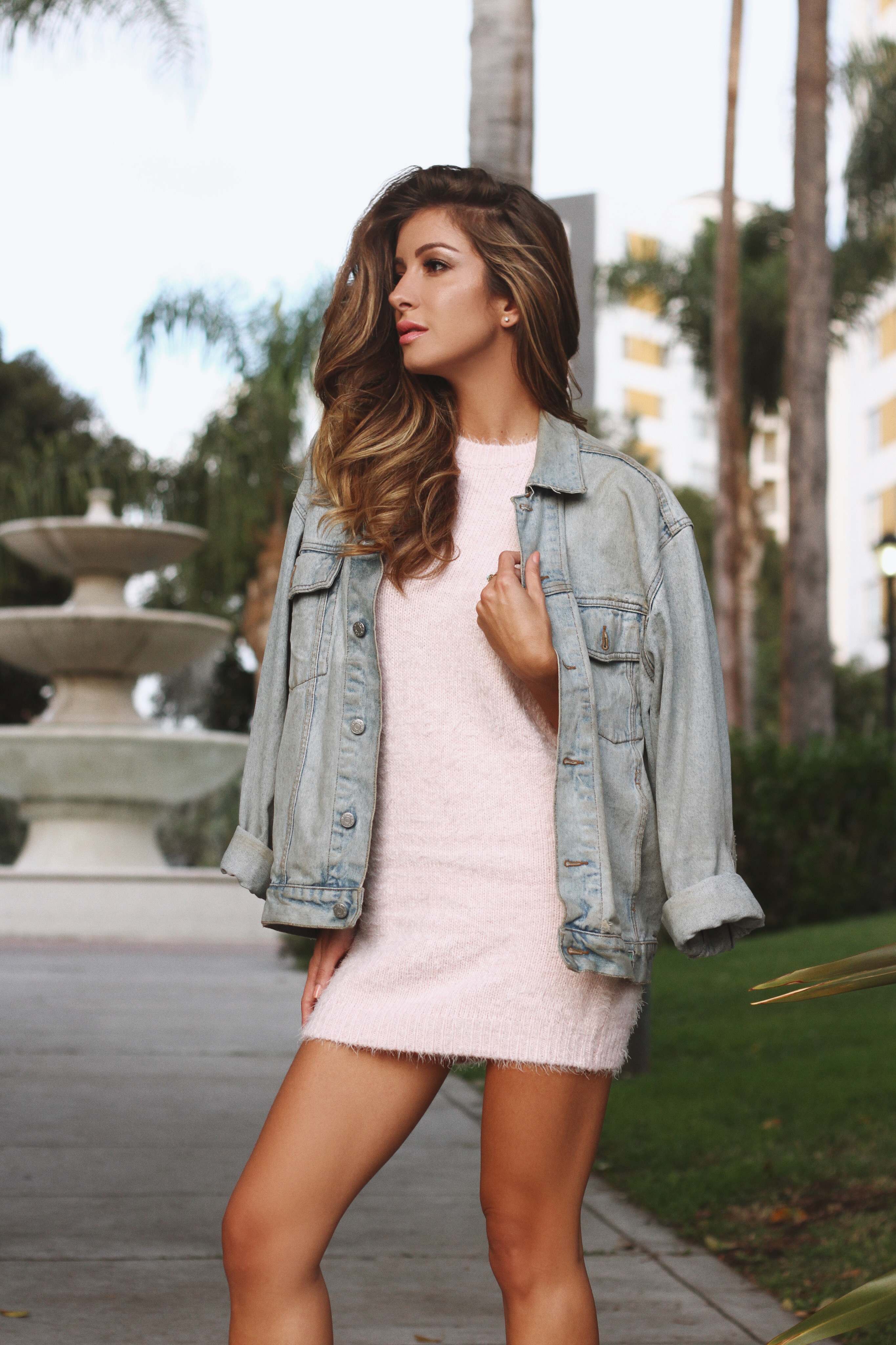 Photography by: Marley Cumbee
Pink Fuzzy Knit Dress: Forever 21 (get it here in blue too), Oversized Denim Jacket: GUESS (vintage), Gray Patent Booties with Pink Lucite Heel: c/o Zoo Shoo (get them here).
-SHOP THE POST-