I am happy to have teamed up with 2b stores this Christmas to create my very own wish list! It was very difficult narrowing down my options because everything in the 2b stores are just awesome! 2b is a sister store to bebe with a price point that is perfect for every fashionista! Their clothes are a great mix of trendy, chic and classic which makes it appealing to everyone, no matter what your "style" is.
2b has just launched their official website and now you can take a peek at their awesome holiday selection and also shop the looks I picked out! Hopefully this wishlist will help make your holiday shopping a little easier! I want everything on it!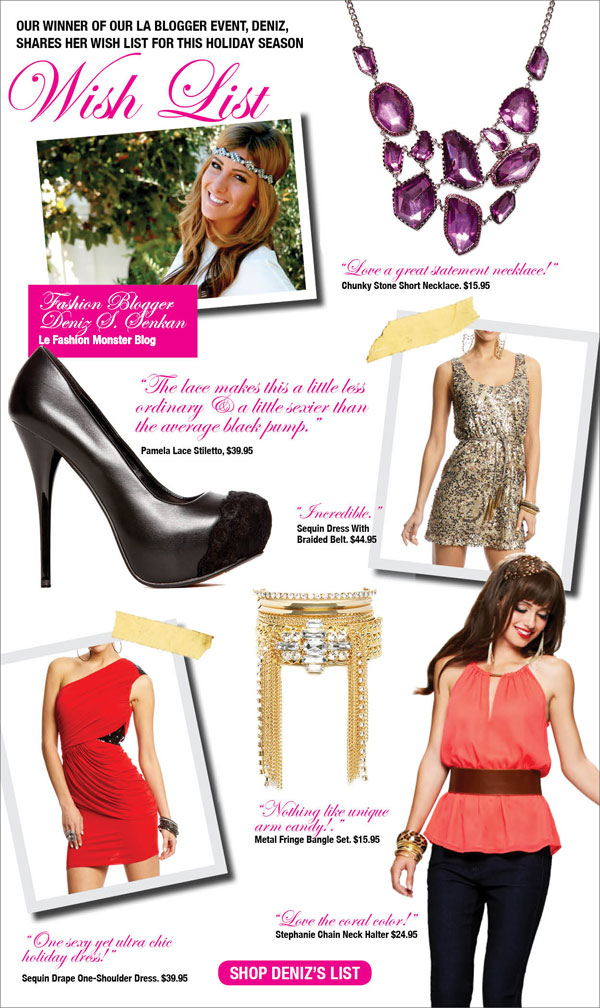 A statement necklace is a great staple to have. I love to wear mine with a classic blouse/t-shirt and jeans look, or a nice cocktail dress. They definitely make a statement, so be sure to minimize the rest of your accessories when throwing on such a piece. Get It Here.
I love a great black pump…but I also like unique details so I don't feel like I'm buying "another black shoe". The lace detail on these gorgeous pumps will add some instant sexiness to your outfit. Wear these with lace tights or a lace tank! Get It Here.
This is the perfect New Years Eve dress. The sequins, the belt, the shimmer! I love that it's easy to wear. Wear with tights or keep your legs bare, you'll be the shining star at any NYE party you attend. Get It Here.
I love arm candy. This bracelet is chic and sexy and I really love the dangling fringe. Wear this accessory to add a bit of sparkle to any outfit! Get It Here.
5. Sequin Draped One Shoulder Dress
This dress reminds of something Serena Van der Woodsen (Gossip Girl) would wear. The draping, the fit, the touch of sequins…This dress is the epitome of a Holiday dress. Get It Here.
6. Coral Chain Neck Halter Top
I love the color of this top and the neck detail. Pair this chic top with a pair of skinny jeans or tuck it into a high waist skirt for a very chic look. Add the fringe bracelet and you've got an outfit to break some hearts! Get It Here.
Don't get HOLIDAZED this year…check out 2b by bebe. You can shop the store and these looks here.